At what age can you give a child a watermelon? We learn!
Watermelon is definitely a favorite berry. It perfectly quenches thirst in hot summer, as it consists of 75% water. In addition, it contains many beneficial trace elements (potassium, magnesium, etc.). They start selling them in June-July, and everyone tries to enjoy this dish as soon as possible.
What is the danger of use?
Of course, I want to treat my crumbs with this wonder-berry rather. However, you should figure out at what age you can give the child a watermelon.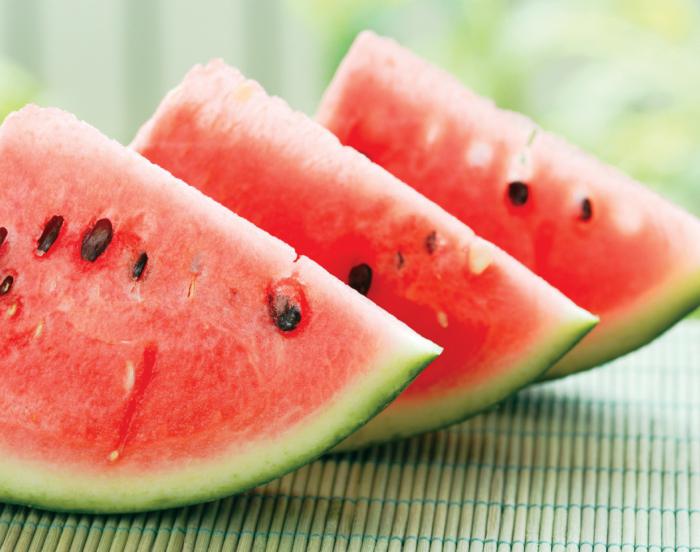 The main danger of using this product is that if it is purchased ahead of natural maturation, it will contain a lot of chemistry. A fragile children's body, it can cause serious harm.
So when can a child have a watermelon?
Most doctors agree that the berry should not be given to a child who is not yet two years old. A child of two years old needs 80-100 grams of this product per day.Older children can eat about 150 grams.
If the watermelon is not very high quality, then the baby's digestive tract disorder will manifest itself within two days. If the child is still very small, then the malaise may appear within two hours. In this case, you will notice in your child's lethargy, weakness, fever, headache, paroxysmal pain in the abdomen, vomiting, upset stool. All this can lead to dehydration of the child.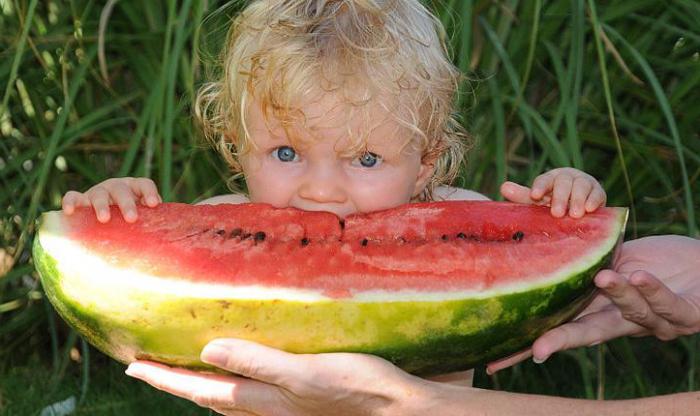 Taking into account all the above, a natural question arises: "Is it possible for children to have a watermelon in principle?" Do not forget that this berry contains many trace elements, folic acid and vitamins, as well as fiber. In addition, if the watermelon is ripe and juicy, then it contains natural sugars: glucose, fructose, sucrose. These substances are very useful for the body of the child, they are easily digested. Of course, it is impossible not to note its extremely low calorie content.
Important factor
And yet, at what age can you give a child a watermelon? Understanding in detail in this matter, one cannot be too unambiguous. It all depends on the conditions in which the berry was grown.
The most delicious and healthy will be watermelons grown in their own garden. This is the only way you can guarantee the special usefulness of the product.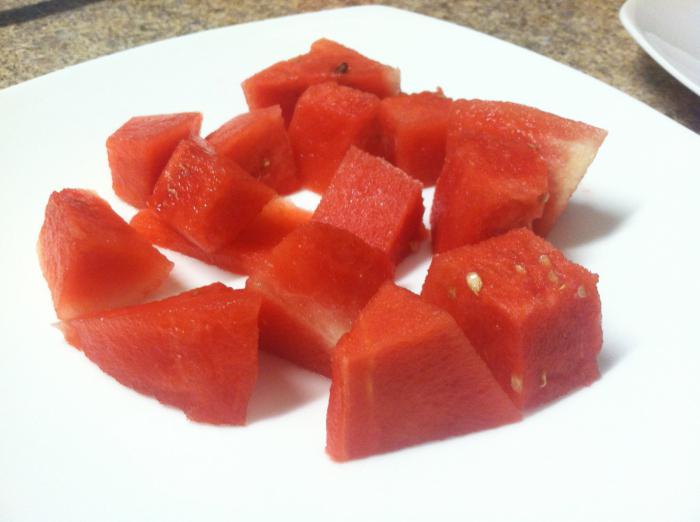 Regardless of whether you purchased a watermelon on the market or in a store, whether to remove it from the garden bed, you must thoroughly wash its skin. It may contain particles of dust, soil, other dirt. Thus, harmful substances can enter the body through the hands and cause frustration.
For the same reason, you should not buy a berry that has been pre-cut or has cracks. When exposed to oxygen, bacteria on this surface will multiply at high speeds. Buy only a whole watermelon. In this case, it is better to eat it all at once, do not stretch the pleasure. If you have a little watermelon, then you need to store it only in the refrigerator, and even then not more than a day.
Also, special attention should be paid to the so-called roadside ruin. Currently, this type of trade is illegal. There are often watermelons that are rejected by sanitary services. In addition, in a few hours of this trade, the berry is able to absorb a sufficiently large amount of heavy metals from automobile exhausts.
Then how to be and at what age can you give a child a watermelon? Now find out.Many mothers are interested in whether to feed their baby, for example, at ten months of age? You can often hear a positive response. Some women give babies this berry in small portions almost from eight months. However, asking the question "can a one-year-old watermelon a child" to any physician who is knowledgeable in this area, you will hear an unequivocal "no".
But to use this giant berry for children from a certain age is certainly worth it. Its properties are especially useful in hot summer. In the heat, the body along with the water loses a lot of useful trace elements. Watermelon is able to fill them. In addition, it contains fiber, which is perfectly assimilated and helps the digestive tract.
Tricks
Choosing a watermelon, you need to pay attention to some points:
it should not be too large or small, the average size is optimal;
a large fruit should be light in weight - a sign of ripeness;
tail must be dry;
after the watermelon has absorbed all the most useful, it ceases to produce pigment. Therefore, from lying on its side, light spots may appear - this is also a good sign;
the skin of a ripe watermelon is hard.This is because after the berry has lost touch with the gourd, it ceases to receive moisture.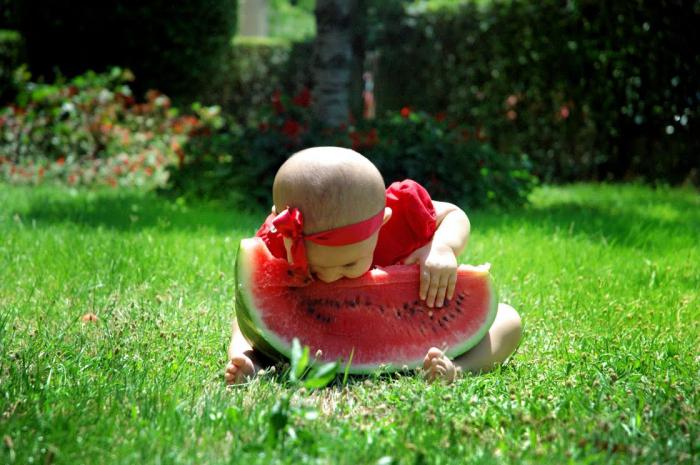 Thus, the correct choice and use of watermelon - quite a difficult task. However, with particular responsibility coming to this process, you will get a lot of benefits and a lot of pleasure!
Related news
At what age can you give a child a watermelon? image, picture, imagery