Banana dishes - sweets and salads
Banana dishes are, of course, primarily sweets. Cupcakes, cupcakes, open pies and cakes with this wonderful fruit are excellent. Also, a banana is one of the most favorite ingredients when you prepare meals for children. It is nutritious, satisfying and extremely rarely can cause allergies. And it is very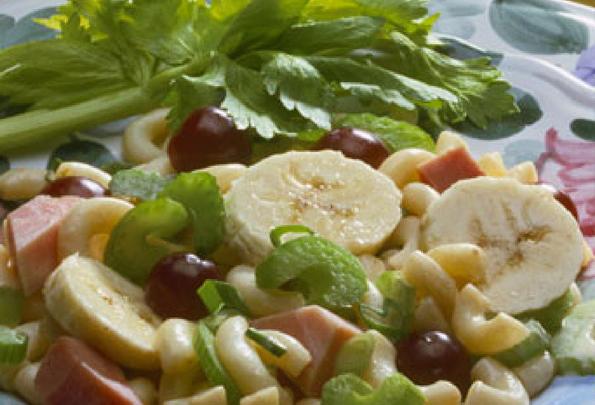 important for those who are responsible in the family for baby food. Experiment - you can make delicious main dishes with a banana. Here are the recipes of two original salads and sweets.
Banana dishes. Ham salad
Ham will need about two hundred grams. Bananas, it is desirable to take not very sweet, but not green. Optimally, if they are a bit fresh. They will need two pieces of medium size. You also need two cucumbers, green leaf lettuce, walnuts, salt and mayonnaise (or any dressing to your taste - for example, yogurt or sour cream). Cut ham, nuts and banana into symmetrical cubes. Leaf lettuce - stripes.Season with a mixture of crushed nuts, mayonnaise and salt, mix and place on whole lettuce leaves. Sprinkle with parsley. This original salad will appeal to lovers of interesting combinations.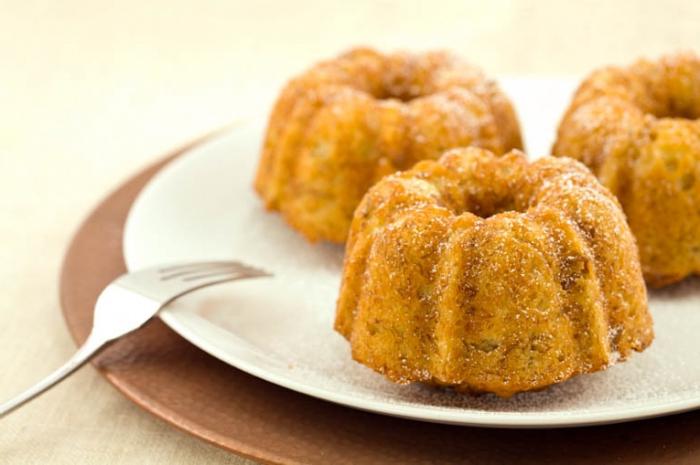 Ham, you can try to replace smoked or boiled chicken, other meats to your taste. Another version of this salad, this time sweeter, can be prepared by replacing cucumbers in the recipe with raisins and coconut chips. Those who are used to combining meat with sweet foods or sauces will appreciate this dish. Bananas, ham, raisins, dried coconut (coconut candied fruits), cream and lemon zest mix thoroughly. Then let it brew and put on lettuce leaves.
Sweet banana dishes. Cream Cakes and Cake
150 grams of maximum fat cream or sour cream fresh cream will be needed to bake excellent flavored muffins with a light creamy taste. Banana pastries are always unprecedentedly soft and slightly moist. In addition to cream, you will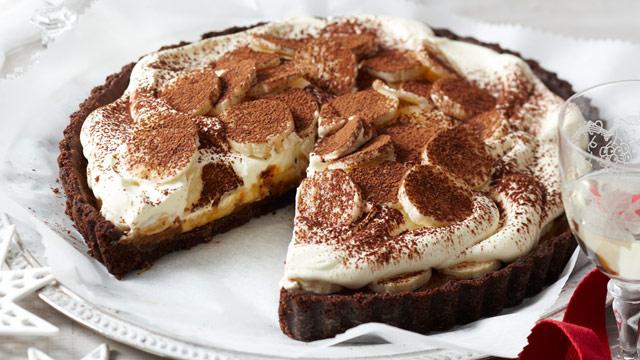 you need two eggs, two ripe bananas (already with dark specks), two glasses of high-grade flour and a glass of sugar. Still need baking powder, vanilla and salt. Beat eggs with sugar and vanilla.You can fork, and you can mixer. Separately mash the bananas to a smooth mash. Sift the flour with the baking powder and mix the dry ingredients with the liquid to dissolve the sugar. Fill the molds with the mixture - not to the brim, bake for twenty minutes.
Banofy
Listing the dishes from a banana, in no case can one ignore the original banofi cake. The combination of condensed milk, fragrant fruit and air cream is simply unforgettable! You will need a split form with a diameter of 24 or 26 centimeters. You can cook the usual chopped dough or take a pack of the finished puff. Thaw, put in the form and bake in accordance with the instructions on the package. Let the base of the cake cool. Cut bananas, pour with lemon juice or citric acid solution, mix and put on the dough. Top layer of condensed milk (boiled), on top of which - another layer of sliced ​​fruit. For cream, beat the cream with cream cheese, vanilla and sugar. Put on top of bananas on the cake.
Related news
Banana dishes - sweets and salads image, picture, imagery