Boxing hairstyle: performance technique
It's no secret that almost all men are conservatives, which is why they most of all appreciate naturalness and simplicity, and this is undoubtedly the most important thing in men's haircut. Therefore, in today's world, men's boxing hairstyle is a classic option. Its main advantage is that it is absolutely suitable for all types of hair.
About haircut
Boxing looks stylish and attractive, and due to the fact that the haircut is short, the hairstyle always looks neat. All this only underlines the courage and determination of the stronger sex. Hairstyle boxing (photos are presented in the article) is very popular among both ordinary people and famous people.
As you can already guess from the name, this type of haircut came from the sport. Most athletes prefer short versions, so that the hair does not interfere during training and training.
Hairstyle boxing opens up the whole face, making the man incredibly attractive. Another indisputable advantage of this haircut is its length - it is as short as possible, so the hair does not require constant styling and some significant care.However, in order to remain decent view, do not forget about the monthly adjustment of the master. Hair in any case should be clean, and to change the appearance of the strands can be slightly ruffled or laid on its side.
Due to the short hair length, boxing and semi-boxing hairstyles are not afraid of strong winds and bad weather.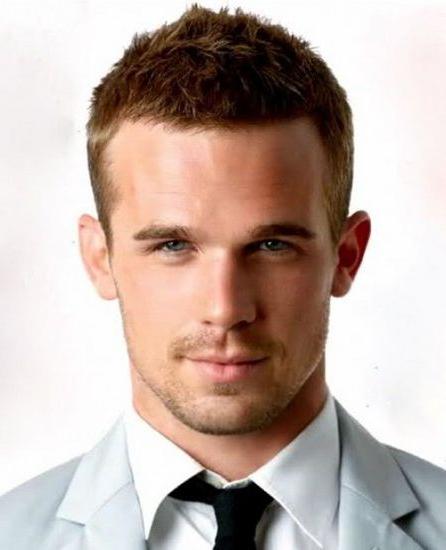 Halfbox
Haircut is similar to boxing, but has significant differences. In this case, the hair at the crown is somewhat longer, and the transition border at the back of the head is slightly higher. Although the difference seems obvious, in appearance both options look like the same hairstyle. Boxing and semi-boxes are almost identical, especially when viewed unprofessional.
Who is suitable for a haircut
A semi-box, like a boxing hairstyle, has absolutely no restrictions and is recommended to everyone, regardless of color, hair structure and head shape.
A short haircut is great for young people, making them more attractive and interesting, as well as for older men, giving them a youthful and beautiful look.
This hairstyle is especially good on the male representatives with blond thin hair - due to the hairstyle, the probability of ugly translucency of the scalp is minimal.
However, there is only one restriction: boxing doesn't go well with men with curly hair and those with big scars on their heads.
Due to the fact that this haircut is a classic, it is very fond of famous politicians, athletes and people of show business.
Boxing hairstyle: photo and performance technology
A significant advantage over other haircuts is that boxing can be performed on any length of hair, and having at least minimal skills with a hair clipper, it is quite possible to do a hairstyle yourself.
It will take very few tools - it comb, scissors, razor and machine. Hair clipper can be the simplest, just a couple of nozzles of the required length.
Haircut process
You should start with the temples, with the help of a typewriter you need to cut the strip to the required height - no more than one centimeter. Then the same should be done on the back of the head, the crown area can serve as a guide for height. Above this part, the hair will be slightly longer, up to four centimeters, so you will need to mow them with scissors or a nozzle of greater length.The sharp line of transition from one area to another should be trimmed with a typewriter or special milled scissors, making it smoother.
Edging the lines of the ears and neck is best done with a razor, so it will be more accurate and clear.
Do not forget that the haircut should be done on dry hair. At will or, if necessary, it is permissible to leave a bang, it can be either short - on a par with the whole haircut, or long - to reach the eyebrows or even drop below.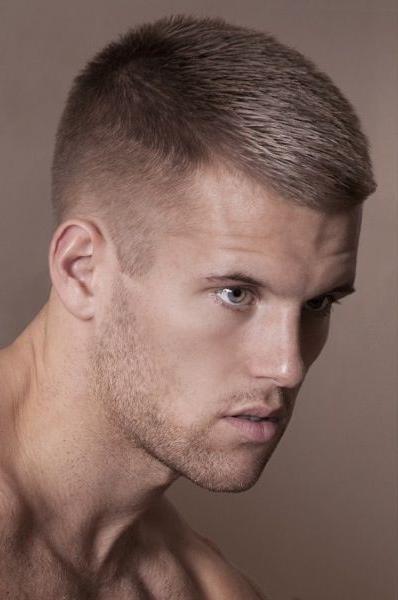 Conclusion
So, it's pretty easy to make a boxing hairstyle, perhaps, this is the only male haircut that you can do yourself. It is very interesting, does not require special care and styling, it is perfect for people with quickly getting dirty hair Haircut remains at the peak of popularity for a very long time due to the fact that emphasizes masculinity and brutality.
Hairstyle boxing is a great option for any man, regardless of hair type. The shape is preserved just great, the hair never sticks out. So the popularity of this haircut is not surprising.
The principle of caring for it does not differ from other varieties - shampooing and regular adjustment.
Boxing is a popular, beloved, universal, but at the same time implies an individual approach hairstyle that hairdressers perform with the personal wishes of the man and his external features.
Related news
Boxing hairstyle: performance technique image, picture, imagery