Decorating the walls with their own hands and improvised means (photo)
Starting to do repairs, most want to create something new and spectacular. Try to decorate the walls with your own hands. Choose one of the following methods. Any of the options will help refresh the interior, making an unusual design.
Decorating the walls with their own hands and improvised means
If you like to experiment, in the article you will find many ideas for decorating the room. Modern materials and tools allow you to create your own masterpieces to transform the interior. Most often used such methods:
Painting walls with acrylic paints using patterns, color and tonal gradations.
Drawing images of flowers, butterflies, trees using commercially made or hand-made stencils.
Creating an unusual textured surface, including patterns, using putty or decorative plaster.
Decoupage walls.
Decorating with a fabric, such as draperies or large cloths using patchwork technique.
As you can see, the ideas of decorating walls with their own hands are quite diverse. This list can be significantly expanded using your own fantasy. If you like several ways, you can try them in different rooms or try to combine them in one. The main thing is not to overdo it and always proceed from the principle of harmony and compatibility of forms, colors and materials.
Use of acrylic paints
The simplest and at the same time original decoration of the walls with your own hands and improvised means can be done with the help of an ordinary brush. The color scale presented now in building and interior shops, allows to realize any imaginations.
It is easy to use universal colors, adding which in white paint, you get a lot of shades from the brightest to bright and saturated. In addition, the compositions can be mixed with each other, so for the work you will need to buy three primary colors (red, blue, yellow) to get any desired shade.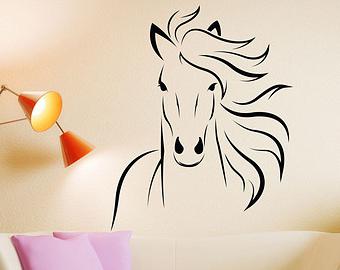 However, it is worth remembering that the motley carpet on the wall is not always appropriate in the interior. Depending on the style of the room, a limited number of shades may be quite enough (two or three). Very often they use only the two-basic color of the wall and the contrasting tone of the pattern to it. In this case, the pattern can be dark on a light background, then you will get a silhouette look, and vice versa. In the second version, the effect of image glowing will be created. The choice of specific colors, of course, depends on the preferences of the owner of the living space, but do not use too dark and too bright colors on large surfaces. Such an interior can tire residents and guests.
Work with acrylic paints is quite simple. They are diluted with water and easy to apply. Dry quickly, do not have a strong odor. Now you can even buy pearl and metallic shades of white, pink, gold. They can be added both to the basic color scheme so that the image is poured under the influence of lighting, and to apply an additional pattern over the dried first layer.
Stencil use
It is hard to believe, but such decoration of the walls with their own hands (photo above) can be made by anyone, even those who cannot draw. The previous section dealt with the use of acrylic paints for painting walls, that is, it was assumed that the worker knows how to hold the brush in his hands. If you never went to an art studio, and there were also problems with drawing at school, and you want to decorate the interior in this way and independently, without the involvement of specialists, using stencils would be an excellent alternative.
They are usually simple-shaped images, either cut out from within a dense sheet, such as plastic, or solid patterns. In the first case, the picture is filled with color inside the sheet, in the second - along the contour. You can purchase such a stencil in a hardware store or order it online. The range of drawings is large. Everyone will find an option to his liking: from butterflies and other natural motifs to complex ornaments.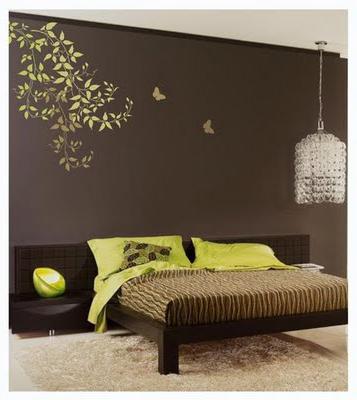 For decoration, you can use any other stencils purchased in the hardware store. If you like drawing a pattern that is intended for use in cooking,children's creativity, needlework, use it. The main thing that it was convenient to work with him on a vertical surface. It should fit snugly to the wall, be durable and easy to wash off paint. "Trying a pen", that is, it is better to perform your first pattern on a "draft" by placing it on a wall or hanging a sheet of paper or cardboard on it. If you have never done anything like this, you may need to practice a bit so that your wall will then look neat and beautiful.
By the way, in addition to paint, you can decorate the walls with putty with your own hands. In this case, the same pattern is filled not by the color scheme, but by the viscous composition that forms the relief. In addition to patterns, in this way they simply make an unusual surface of the walls of the original texture.
How to make a stencil yourself
If you decide to decorate the walls with your own hands using templates, but have not found a suitable motive, you should not be upset. Making a billet is easy at home. This will require the following:
A sheet of cardboard, plastic or something like that is available.
Sharp knife.
Sketch of the picture.
If you can draw, you can make a suitable motive yourself on a piece of paper and cut it with scissors. It is better not to use small and thin parts, which will then not only be difficult to cut, but also fill with paint. All forms should be as simple and concise as possible.
If you do not own a pencil or fantasy sufficiently to come up with and execute an image yourself, or you want something very complex, such as an ornament, find a suitable picture and print it at the right scale. When performing a pattern, it will be enough to make one repeating element, and you can lay it out in a row right on the wall. Only the stencil should then be very durable (plastic, not cardboard), otherwise it may be deformed or torn from repeated exposure to paint. If the format of the cardboard allows, make a blank of the ornament at once from several repetitive parts arranged in a row or column.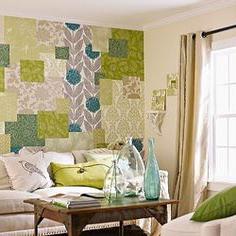 When cut out of paper drawing is ready, transfer it to plastic (cardboard) and cut with a sharp knife along the outer contour, as you did with paper, or make a cut in the sheet, depending on what suits you best, and what will be more convenient to work with.Now you only have to attach the template to the wall and do the work with paint or putty.
How to use fabric
Another original way is decorating the walls with a cloth with your own hands. In this case, use spectacular draperies, smooth canvas with a beautiful pattern and even the technique of patchwork. This work will take a lot of time and may not be suitable for any interior. It is important to respect the style of registration and not to overdo it with the number of different colors and patterns.
Decoupage walls
The spectacular decoration of the walls with your own hands allows you to create a napkin technique. If you know how to decorate vases, caskets or furniture in this way, it's also not difficult to make a spectacular wall design. The main thing is that this method does not require the ability to paint, and the decor created will resemble a painting canvas.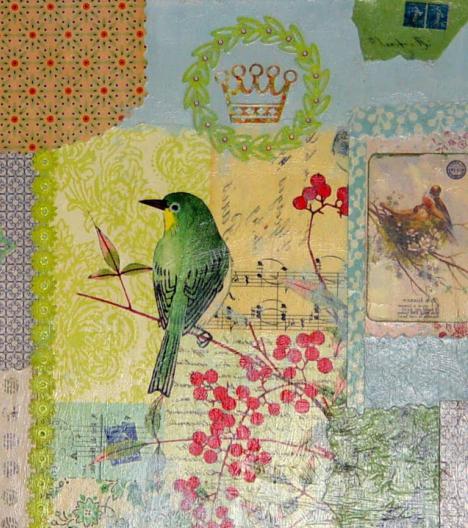 By the way, decoupage on the wall can be performed volumetric, using the model mass to create a relief in certain parts of the image.
Decorating a brick wall with your own hands
Now it is fashionable to create in the interior the effect of street untreated masonry. If you decide to decorate the living room or dining room in this way, but do not want to see a dull "bare" wall, it is quite possible to hang paintings, photographs, mirrors and other objects on it.
By the way, the brick wall itself is easy to make yourself in any room. It will be an imitation, decorative surface under a brick, but it will look very natural. The easiest way is to use rectangles of thick cardboard, cut to the size of realistic bricks and attached to the surface of the wall. Next, a layer of ordinary napkins is glued to create the texture, and paint is applied to give the appropriate shade.
Very unusual ideas
All of the above, is a fairly standard set of methods of decoration and decoration. If you want to create something completely extraordinary, use one or more options from the list below.

To create a spectacular and unusual wall surface, you can use:
ordinary raw boards;
volumetric letters;
mirrors;
panels and paintings;
original frames and a beautiful baguette (empty);
ventilation grates;
crocheted and knitted colored canvas;
photos and posters;
unusual shelf configuration or imitation;
compositions of paper, wire, wire, glass, etc.
It is worth considering that not any such composition will look good in your interior. When choosing, you must proceed from the general style of the room, furniture, as well as existing or planned ceiling and floor finishing materials.
So, you saw a lot of ways how to decorate the walls with your own hands. Choose the one you like. Prepare materials and start an exciting creative process.
Related news
Decorating the walls with their own hands and improvised means (photo) image, picture, imagery