Do-it-yourself garden figures to give
How wonderful it is when there is a place behind the bustling city where you can relax your body and soul. And, as is typical of any person, we want our garden to look decent and beautiful. Of course, bright flowering plants contribute to this. But this is not enough. Garden figures for summer cottages make their significant contribution to the beauty of landscape design. More recently, in the era of the Soviet Union, the only decoration of the suburban area was an ordinary scarecrow. Now, in some gardens you can see impressive gnomes, fairy-tale huts, flowerpots of tires in the form of colored parrots and snow-white swans. And most importantly, all this is done by hand.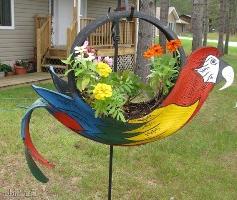 Foam garden figures
Sculptures from polyurethane foam look very unusual. They are quite realistic and, as a rule, very detailed. The advantage of foam is primarily ease of processing. It is for this reason that inexperienced but dreaming masters of creating masterpieces with their own hands are best to try their hand first and practice this material.Garden figures for giving from foam are made on the basis of the frame. This may be wire or plywood. Next, it is applied to the layers of foam. It should harden well, and then proceed to cut the contour of the sculpture. You can start with a simple bun.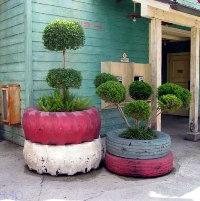 Figures from old car tires
Agree how sometimes it is a pity to throw out such an expensive thing as a car tire, even if it is already bald and completely unsuitable. But in fact, this is an excellent material for creating not just garden masterpieces, but very useful things. Recently, flower pots and flowerpots have become incredibly popular. They are made of tires. Such products are very beautiful, and most importantly - practical. But even without any special alterations, a beautifully painted tire itself is already almost a flower bed or a tub for a small tree. Garden figures for the garden, made of tires, lead to a real, genuine delight, and especially like children. You can organize a whole playground with horizontal bars and swings. Funny sandboxes, funny parrots, crocodile, which is very fun to crawl - this is not a complete list of what you can do with your own hands. And all this will be created from unnecessary old tires.On various thematic resources there are a huge number of instructions with step-by-step photos, on which it is very easy to make garden figures. A master class on them, as a rule, is not too complicated and easily executable.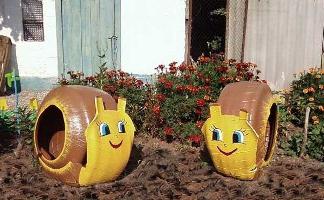 Wooden crafts - heroes of fairy tales
In the garden you can always find a huge variety of stumps, trunks and branches. As a rule, they are thrown away or burned at the stake. But if you think about it, they can make excellent garden figures for the garden. You just need to connect the fantasy and make a wire frame, and after that just wrap it around with branches, and you get a great sculpture. Peculiar and unique. Such amazing figurines are arranged throughout the garden. If there is a stump on the site, which is not possible to uproot - this is also not a problem. Mask it under a colorful and fun fungus.
Related news
Do-it-yourself garden figures to give image, picture, imagery