Eggplant in Turkish: recipes and cooking features
Turkish cuisine is famous all over the world. Very many dishes have spread around the planet and have long been adopted by the hostesses far beyond the borders of Turkey. One of them is eggplant in Turkish. This dish will be a great addition to meat or any side dish. In our article we will present the best recipes for eggplants in Turkish.
Products for cooking
For the preparation of Turkish eggplant dishes we need: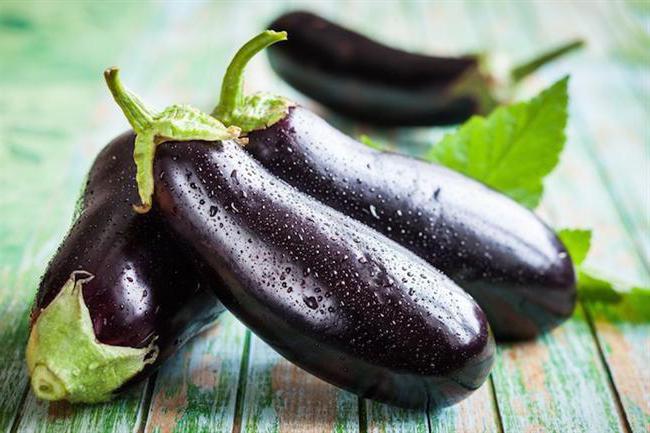 One onion.
Three eggplant.
A glass of tomato juice.
Three garlic cloves.
To taste oregano and black pepper.
450 grams of minced meat.
A bunch of onions (green).
Bunch of parsley.
If desired, you can add a little mint.
One Bulgarian pepper.
Salt.
Two tomatoes.
Sunflower oil.
Turkish Eggplant Recipe
My eggplants and cut them into rings, salt them and leave for fifteen minutes, so that they can put the juice. After this, drain the liquid and dry the vegetables with a paper towel.
Chop (finely) the onion and half put in the stuffing, adding pepper and salt. Now you need to cook the sauce. For him, fry the second part of onion in a pan (no more than three minutes). Divide the tomatoes into four parts, then pour them with boiling water and remove the skin. Finely dice chop the Bulgarian pepper and tomatoes and put them in a pan to the onions. Put together the vegetables stew for ten minutes. After that, pour in tomato juice, add pepper and salt to taste. Bring the whole mass to a boil. Now you can add chopped parsley, oregano and mint to the sauce, then stew it for another five minutes.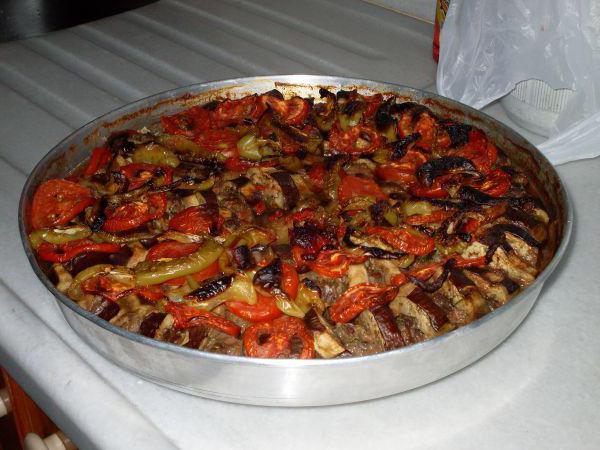 Prepare the form for baking, oiling its bottom and side surfaces. After that, lay out the eggplant rings, alternating them with minced meat. On top, pour the vegetables in the prepared sauce. Next, send the dish in the oven to bake. At 180 degrees cook eggplants in Turkish about 45 minutes. Sprinkle the prepared dish on top with chopped green onions and garlic. Such baked eggplants can be put on the table to any side dish. It can be potatoes, rice, porridge, spaghetti and more.
Moussaka in Turkish: Ingredients
There are many options for cooking eggplants in Turkish. One of them is the moussaka dish. This dish is prepared in many Balkan countries, including Bulgaria and Greece, but the Turkish recipe has its own peculiarities. In her moussaka do not put cheese, the dish is decorated with pepper and tomatoes. This diet food is suitable even for those who are on a diet.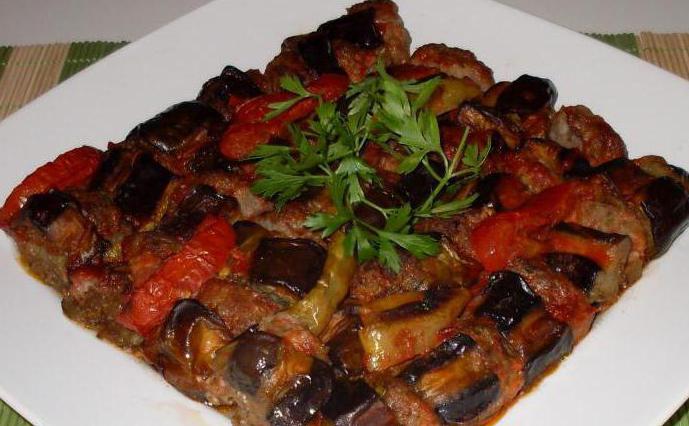 Ingredients:
One sweet pepper.
Four hot peppers.
850 g minced beef.
Bulb.
Tomato paste.
Garlic.
Vegetable oil.
A kilogram of tomatoes.
A kilogram of eggplants.
Zura, pepper, paprika, coriander are well suited as spices.
Salt.
Musaka Recipe
So, let's start cooking eggplants in Turkish with minced meat. Cut them into circles and spread on a baking sheet, missed with oil. Next, bake the eggplant until golden brown. The process takes about fifteen minutes. Frying eggplants in a pan is not recommended, as they then absorb too much oil. But when baking this will not happen.
While they are preparing, you can start preparing other vegetables. With my and diced tomatoes, peppers and onions. Also grind one hot pepper, garlic.Onions lightly fried in a pan, adding pepper and garlic. After the vegetables are slightly steamed, spread the mince to them, mix all the ingredients and fry. After that, put in a pan tomatoes and tomato paste. Stew the stuffing for thirty minutes on the lowest fire. And do not forget to add spices to taste.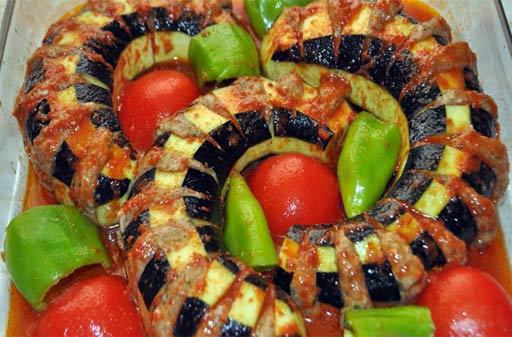 Now that all the ingredients for the moussaki are ready, we begin to collect the dish. Lay out the layer of eggplants on the bottom of the smeared baking dish. Next, put on top of the third part of the meat filling, then eggplants again. Then we repeat the actions. The result should be six layers. Top of the dish is decorated with tomato slices and slices of hot peppers. Next, bake eggplants in Turkish with minced meat for about thirty minutes.
Turkish Eggplant
Eggplants can be called the favorite of Turkish cuisine. What only dishes with them are not prepared. In general, it is difficult to imagine the menu of a Turkish establishment, in which there is no eggplant dish. Locals know how to cook a vegetable is especially tasty. Eggplant in Turkish with minced meat - the signature dish of any restaurant. It is served with any side dishes and meat.Even as an independent dish, eggplants are very tasty. Traditionally, the vegetable is baked, grilled, fried, stewed, marinated. In our kitchen, eggplants are not as in demand as in Turkish. Not every hostess knows how to cook them tasty. Although in fact the recipes for eggplants in Turkish with minced meat are incredibly simple to perform.
Turkish "boats": ingredients
Eggplant in Turkish is often prepared in the form of boats. To do this, make a cut in each vegetable along, and then place it in salted water. From eggplant should get bitterness. This only applies to purple fruits. If you prefer white vegetables, they can be baked without prior preparation, since bitterness is completely absent in them. In general, any dish of white eggplant turns out much softer. Therefore, choosing products, be guided exclusively by your taste. The recipe allows for a creative approach. The same goes for spices - you can choose your own set of spices for cooking.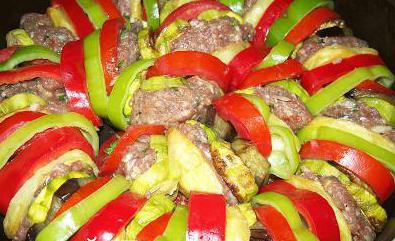 Ingredients:
Two onions.
Four eggplant.
Bulgarian pepper.
Red pepper.
Minced beef - ½ kg.
Parsley.
Turkish Boat Recipe
Spread eggplant, soaked in water, on a baking sheet and grease them with vegetable oil on top. After that, send the vegetables to bake. Willingness of vegetables is determined with the help of a fork. Eggplants should be soft and slightly rosy.
While the vegetables are baking, proceed to cutting the Bulgarian pepper and onion. Fry them in a pan, adding chopped garlic. Then we put mince, pepper to vegetables and then stew mass.
Ready eggplants open in the place of cuts and sprinkle with sugar. This will make the taste of the dish more vivid. Then fill the minced boats. Top with parsley or tomatoes. Do not forget to put spices to taste. Put the stuffed eggplants on a greased baking sheet, and pour the tomato paste diluted with water on top. Send the pan to the hot oven (18 degrees). Dish cook about thirty minutes. Eggplant in Turkish can not rush to serve hot on the table. They are good and cold. Being hung, the dish becomes even tastier.
Stuffed Eggplant: Ingredients
Stuffed eggplants in Turkish will need:
Two large eggplant.
One onion.
370 g minced.
A couple of cloves of garlic.
Four tomatoes.
Hard cheese - 170 g
A bunch of greens.
One hundred grams of tomato juice.
Stuffed Eggplant Recipe
Eggplant wash and peel, and also cut lengthwise and remove all the flesh, then salt and leave to stand for about twenty minutes. This time is enough to leave bitterness. Next, fry the eggplant in vegetable oil.
Dice onion, garlic, tomatoes, eggplant pulp. In a pan, fry the minced meat slightly, then add the chopped vegetables and continue to simmer. And do not forget to add salt, spices and parsley.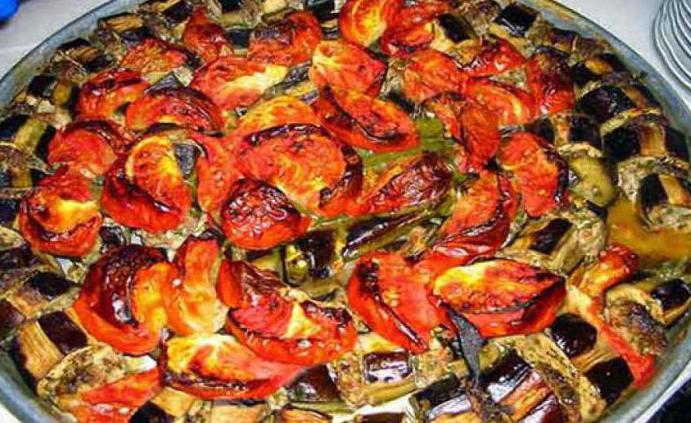 Start the eggplant boats with meat and vegetable mince and send the dish to the baking tray. Pour it with tomato sauce on top and sprinkle with grated cheese. Baking tray sent to the oven, where we bake vegetables for thirty-five minutes. The finished dish can be sprinkled with greens (mint, oregano).
Turkish eggplants in a pan
To prepare the next version of Turkish eggplant, we need:
One onion.
Minced beef, but you can replace it with pork - 550 g.
A few cloves of garlic.
Three large eggplant.
Two bell peppers.
Curry.
One carrot.
On a bunch of cilantro and parsley.
Black pepper.
Tomato paste.
In the stuffing add salt, spices, curry and chopped cilantro and parsley. Peel the eggplants and cut them into rings, leaving them in salted water for twenty minutes.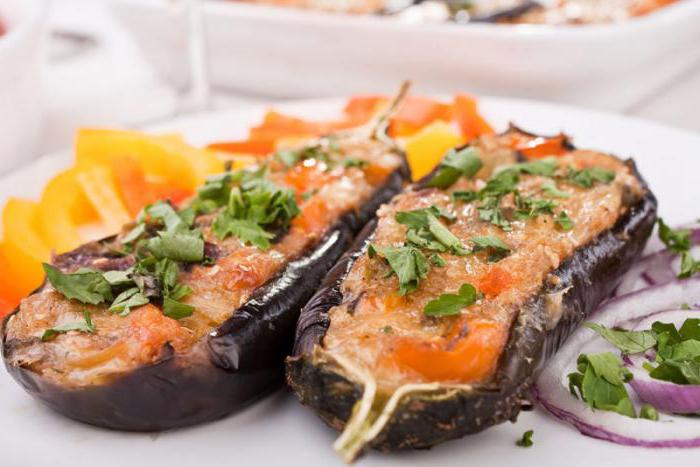 In the meantime, proceed to cutting vegetables. Dice tomatoes, carrots, peppers and onions. Put the eggplant mugs vertically in the pan, filling the distance between them with minced meat. Cover the container with a lid and stew for twenty minutes. Stew the chopped vegetables in a separate pan in the oil. After they are slightly soft send them to the eggplant and minced. Top of the dish pour tomato juice or diluted tomato paste. Stew vegetables under the lid until ready. The finished dish can be served, garnished with green onions or parsley. If you prefer spicy food, you can add more spices. In general, the composition of the products can be changed or varied. Not the last role in the taste of the dish is the use of spices and herbs.
Related news
Eggplant in Turkish: recipes and cooking features image, picture, imagery