Feel the taste of sunny Greece: a recipe for classic Greek salad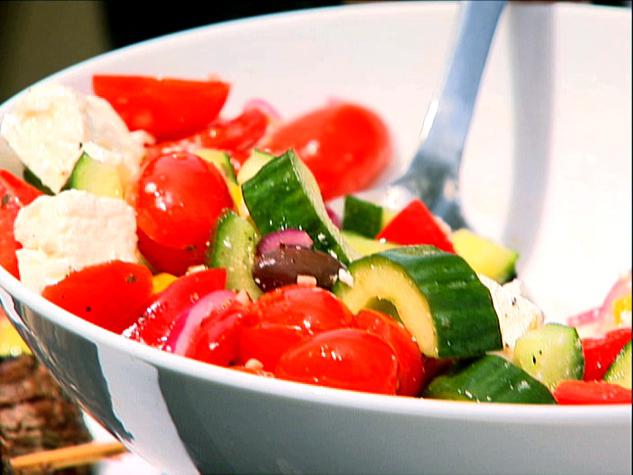 It is difficult to find at least one person who does not like salads. This is not only a snack - cutting from seasonal fresh vegetables, but, at times - and a separate nutritious dish. It all depends on the ingredients used: crumbled lettuce, cucumbers and other greens, and seasoned with a mixture of lemon juice and balsamic vinegar, you get an excellent low-calorie mixture, which can be served, for example, to meat. And the famous Olivier or herring under a fur coat will worthily take the place of individual dishes on the festive table. Salad recipes are so diverse that you can delight your family and friends all year round, and not only in hot weather, when ripe, red tomatoes, fresh cucumbers, bright greens and other vegetables seduce you from the stalls of shops and markets, but also in winter example, warm salads with potatoes and mushrooms.Let's take a look at the recipe of a classic Greek salad that many of us have fallen in love with because of its fresh, slightly salty - thanks to Feta cheese - taste and excellent dressing of olive oil and Provencal herbs. Maybe it will be your signature dish.
How to make a real Greek salad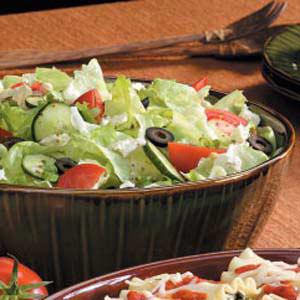 This wonderful salad, made from bright, crunchy vegetables, will be especially good in summer. Its refreshing taste, feta cheese, and a dressing that is simple, but supplementing the meaty sensations, will be loved by both children (sometimes it is difficult to teach to eat certain types of vegetables) and adults. This salad is also suitable for those who diets, because the calorie content of a large portion of only 200 calories. The recipe for a classic Greek salad is not too complicated to prepare and does not require any special ingredients, for a large portion for the whole family you will need:
- 200 g fresh feta cheese;
- 5 ripe tomatoes, cut into semicircles;
- 1 large cucumber, or 2 - medium size, chopped circles;
- 1 onion, sliced ​​(best to take a red onion);
- 2 bell peppers - well, if they are multi-colored, cut into small pieces;
- 1 teaspoon oregano or mix of spices from Provencal herbs;
- a bank of black olives (in the classic version, olives with a stone are used);
- crackers (if you take ready-made, then you will need the usual, without additional flavoring additives);
- A sufficient amount of good olive oil - usually 3-4 tablespoons (bottles labeled with labels Virgin or Extra Virgin), lemon juice, a little salt.
Put the chopped ingredients in a large salad dish - cheese, tomatoes, peppers, cucumbers, onions and whole olives. Stir. Then add a mixture of olive oil and lemon juice (can be replaced with natural wine vinegar) and oregano or Provencal herbs. At the end of cooking, before serving, decorate with croutons. Remember that real cheese "Feta" has a lot of salt in its composition, so try to taste it before salting the salad. Everything is ready for serving, best of all - with a few slices of fresh, slightly toasted bread in a toaster. The recipe for a classic Greek salad is so simple that even the beginning hostess will master its cooking. And so for experienced cooks - the more it does not make much work.
How to make a Greek salad, if one or more ingredients are missing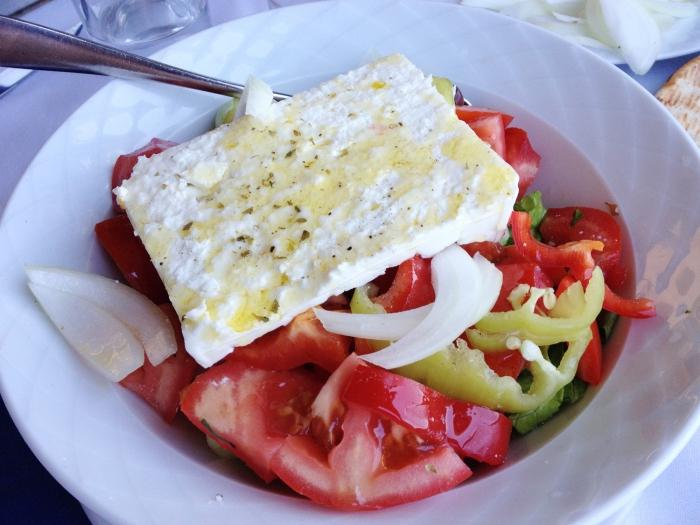 Although the recipe of the salad and involves the addition of well-defined components, but - if necessary - can be replaced, while the taste of the dish is almost no effect. For example, if you did not have oregano on hand, then replace it with black pepper and dried mint. If you forgot to stock up on olives, add capers instead. If you could not find the feta cheese, which, according to the patent, has been produced only in Greece since 2005, you can make a dish with more common cheese or even tofu cheese, while you need to add enough salt. The recipe for a classic Greek salad, although it is very well-established, but any hostess can easily adapt it to suit her own tastes, abilities and preferences.
Related news
Feel the taste of sunny Greece: a recipe for classic Greek salad image, picture, imagery