Green pea soup for every taste
Green peas are tasty both by themselves and as part of salads, soups, side dishes. Moreover, it is optional to subject to thermal processing, and it is possible to add to dishes directly in a fresh look.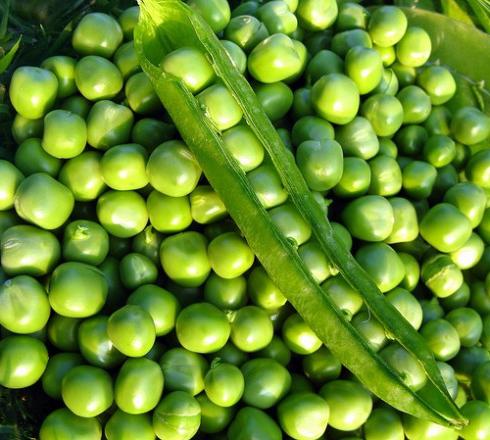 Green pea soup: fresh, frozen or canned - this is an appetizing dish that will appeal to all family members. It can be light vegetarian, hearty with pork ribs or in the form of mashed potatoes, decorated with sprigs of greens. Summer is the time to cook green pea soup.
Summer soup
Ingredients
Green peas - one glass, water - 1.3 liters, sour cream - half a glass, fresh cucumbers - 300 g, two eggs, a bunch of dill, pepper, salt.
Cooking
Boil the peas lightly in water, pour into a clay pot, add chopped eggs, salt, sprinkle with pepper, put in the oven, keep at an average temperature of about 20 minutes. Cut cucumbers into circles and add to the plates along with the greens when serving. If desired, the soup can be flavored with sour cream.
Green Pea Cream Soup
Ingredients
To prepare two servings of soup, you need to take: a liter of water, 300 g of fresh green peas, two tablespoons of sour cream and pumpkin seeds, three slices of bacon, a bunch of mint.
Cooking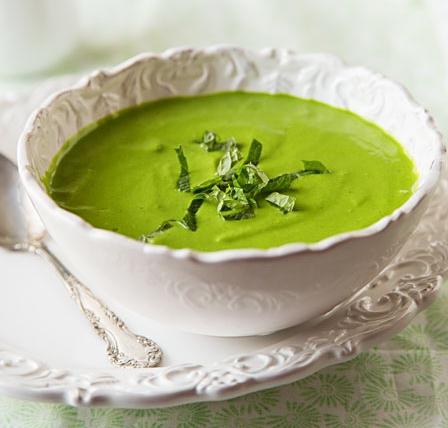 Pour water into the pot, add salt, put on the stove. When boils, throw mint leaves there. After a minute or two, put the peas in a saucepan and cook for another three minutes after boiling. Then drain the broth, rinse the beans and mint. Grind the peas in a blender, pour in two soup ladles (to make the soup more liquid, increase the amount of broth), add sour cream and bring to a homogeneous mass. Rub green pea soup through a fine sieve and serve. Add fried bacon pieces and pumpkin seeds to the plates.
Green Pea Soup with Ribs
Ingredients
Canned peas - one can, small potatoes - 4 pieces, pork ribs - 200 grams, one sweet pepper, two cloves of garlic, vegetable oil - two spoons, bay leaf, dill, salt.
Cooking
Pour a liter of water into a saucepan, put salt and put it on the stove. Pork ribs chopped.At this time, peel the potatoes and cut into 4 pieces each. Put potatoes and ribs in the pot, after boiling, cook for about twenty minutes.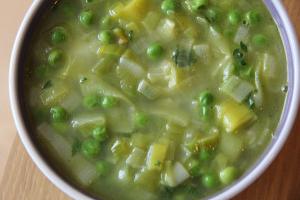 Cut the pepper into strips, garlic into slices, lightly fry with the addition of sunflower oil. When the potatoes are ready, put the peas in the pan, along with the liquid and the fried vegetables. After that, let the soup boil for about five minutes. Remove from heat, hold a little under the lid and pour into plates. Soup can be filled with cream or sour cream.
Frozen pea soup
Ingredients
Frozen small peas - 400 grams, a liter of broth (chicken or vegetable), peeled potatoes - 1 piece, one onion, two tablespoons of chopped tarragon, vegetable oil.
Cooking
Finely chop the onion, fry until soft in oil. Pour the broth into the pan, put onions, potatoes, sliced ​​into cubes, and cook until the latter is ready. Add frozen peas, tarragon and keep on fire for another five minutes. Now it remains only to beat with a blender and pour into plates.
Related news
Green pea soup for every taste image, picture, imagery