How to bake cod in the oven
Wondering what to cook from cod to please the whole family? Leave thoughts and reflections for philosophers. Bake the cod in the oven - that's what you need. The fish will turn out delicate and fragrant. And how to cook cod correctly, prompt our advice. Be careful!
How to bake cod in the oven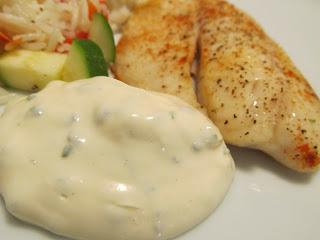 For cooking, you will need a kilo of fresh cod, three ripe apples (preferably Reneta), three onions, two fresh large lemons, butter and sunflower, parsley, spices and olives for decoration. To properly bake cod in the oven, you must first prepare it. Wash the fish and undress. Rid her of cartilage and bones. By the way, it is convenient to buy portions of fish fillets. It will save you from unnecessary effort. Peel the onions and cut them into thin rings. Grease a large baking sheet. Spread onion rings over its entire area, do it evenly.
Further steps
Fresh apples should be peeled, even if you think that it is very tender.Remove the hard core of the fruit too. Apples must be cut into slices as thick as onion rings. They lay out the next layer after the bow. Sprinkle them with lemon juice for piquancy. Salt this layer and sprinkle with chopped parsley. Heat the oven to 180 degrees and carefully put a baking sheet in it. Wait until the onions and apples are fully cooked (about twenty minutes). Pull out the baking tray. Now place this cod fillet on this improvised apple-onion pillow. Salt it and put butter on top of each fish piece. Leave to bake for another ten minutes. Decorate the fish with sliced ​​olives. In restaurants, it is common to serve a slice of lemon to each portion to create a secular atmosphere, work on it.
Second recipe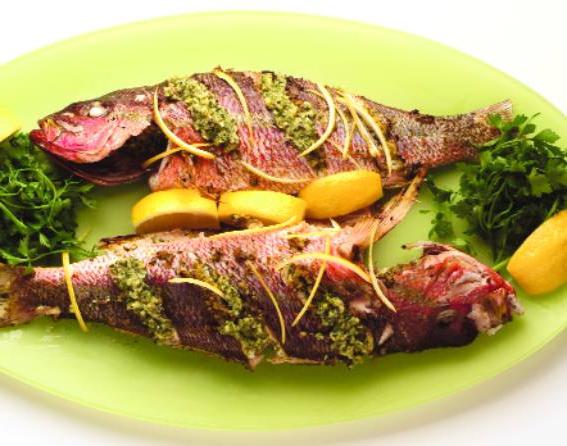 Here is another option to bake cod in the oven. You will need onions (two onions), two chicken eggs, cod, a little sour cream and sunflower oil. Clean and wash the fish, cut out all the fins and remove the bones. Grate the fillet with spices. Fry onion rings on low heat in a large amount of oil. In a deep bowl, whisk the sour cream with raw eggs.Place the fish in a baking dish and overlay it with onions. Pour this beauty cooked sauce. Baked dish for forty minutes at a temperature of two hundred degrees. Do not try to shorten the roasting time by increasing the temperature, it will just burn your fish. By the way, if you're not a cod fan, get any other kind of fish.
Another recipe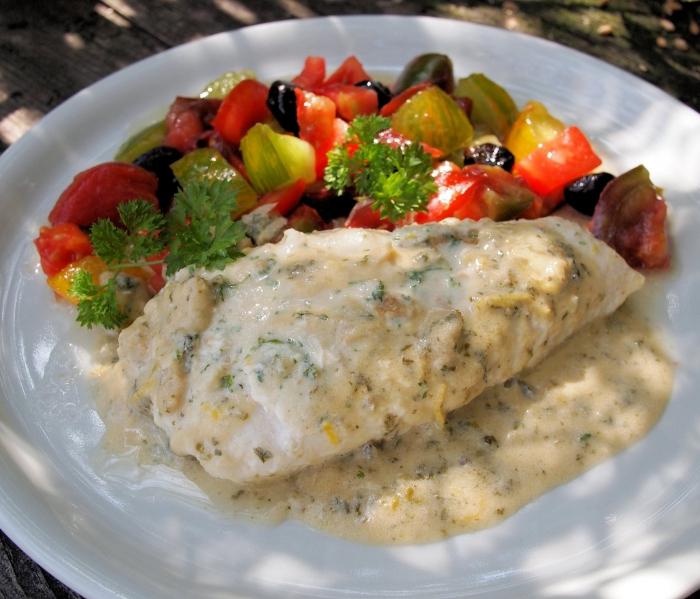 Finally we want to offer you the easiest recipe. Take cod fillets, onions and salt. Nothing more is needed. Clean the cod if there are tapes or cartilages on it. Make small cuts in fillet pieces and put onion rings in them, as in an envelope. Put the onion on top of the cod. Now wrap the fillet with food foil. Let it soak in fragrant onions. Leave it for twenty minutes. Cod is baked in a well heated oven for half an hour. Such a simple and juicy dish will not leave you hungry, even if there are very few foods in the refrigerator.
Related news
How to bake cod in the oven image, picture, imagery