How to create a disk image in Daemon Tools: detailed instructions
It is not a secret for anybody that some programs and games are launched only if there is an installation disk in the drive. Not a very convenient system, but it was invented specifically to ensure that only someone who has the appropriate CD or DVD worked with the software. A peculiar system of protection against illegal copying. Only users have found a way to run games and programs without a disk. Daemon Tools is used for this. A very popular software with which almost every gamer is familiar. Today we have to learn how to create a disk image in Daemon Tools. What you need to know about this procedure? What features to see?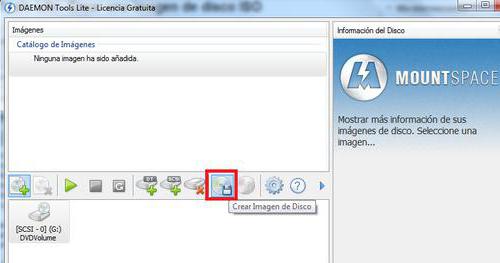 Daemon Tools is ...
First of all, it is recommended to study in more detail the program with which to work. Daemon Tools - what is it? Not every user knows the answer to the question.
Daemon Tools is a program that allows you to create images of certain disks. It helps in backing up data, as well as in their recovery.Players and ordinary users use Daemon Tools to launch games and other software without a material disk (CD / DVD). Fast, convenient and free!
But how to create a disk image in Daemon Tools? What may be required for this? What features should each take into account?
Program installation
Initially, the process begins with a procedure such as finding and installing Demon Tools. This program has many builds and versions. Each has its own peculiarities of work But the general principles remain the same.
How to create a virtual disk image in Daemon Tools? For this, you will first have to perform several actions. Namely:
Find and download to your computer the appropriate version of Daemon Tools. It is advisable to use new builds.
Run the downloaded installation file.
Select the language of the program. Russian there is also often the default.
In some cases, you can choose the type of application: free or under a paid license. Basically preference is given to the first option.
Select the installation location of the program.
Wait for the process to complete.
Once the program is installed, you can say that half of the process is complete. What's next?
Create from disk
This will require just a few simple steps. To master them is easier than it seems at first glance. Especially since in most cases, working with Daemon Tools in all versions comes down to the same actions.
After installing the program, you will notice that a virtual disk was automatically created. It will be offered to work with the user. It appears automatically. You can add a few more virtual disks at any time. Nothing difficult or special!
How to create a disk image in Daemon Tools? Required:
Open the program. In it to select a virtual disk with the help of LKM. Pre-inserted into the drive CD / DVD data. Or the user must prepare documents that will be recorded as an image. In some versions of "Daemon" there is a button "Create an image", which allows you to select files for recording.
Click on the RMB in the image. In the list that appears, click on "Create a disk image ...". You can simply find the image of the running Daemon Tools in the tray, right-click on the icon and select the proposed menu item.
After this, the "Image Creation Wizard" will open. In it, the user will see the settings of the used disk.
Special attention is paid to the item "Output image file". This field is the address of the file to be mounted. Therefore, it is recommended that all used documents be placed in a convenient place. For example, write to the "desktop".
How to mount a disk image in Daemon Tools? Click on three points near the field "Output image file".
In the menu that appears, select the location where the image will be saved. Also give a name to the document and set the file format. Usually iso is mounted from the drive.
Click on the "Save" button, then - "Start".
Wait for the completion of the procedure.
Now the image is created and ready to use. There is nothing difficult or special about it. Here's how to create a disk image in Daemon Tools. And if we are talking about the launch of iso without a material carrier? How to realize the idea?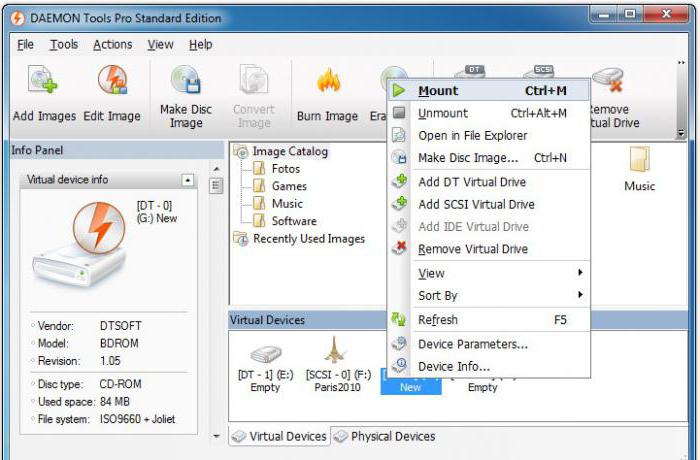 Run without disk
Nothing hard! Daemon Tools is a program that works with a wide variety of extensions. The most commonly used iso, MDF, MDS. Once an image is created, it can be mounted.
How exactly? Required:
Launch "Demon Tuls".
Select a virtual disk and click on it with RMB.
In the menu that appears, mark "Mount image" - "Add a virtual drive."
Mark a document previously created using the application.Or find any disk image that you want to mount.
Go back to the menu "Mount image". This time the user will have a menu with an image. You need to either click on it, or click on the appropriate icon and select in the "Mount" list.
The executable file will launch. Done! From now on, it is clear how to create a disk image in Daemon Tools and also to launch it.
Related news
How to create a disk image in Daemon Tools: detailed instructions image, picture, imagery