How to grow watermelon in Siberia in a greenhouse?
Why do so many of us love the end of summer, the month of August? Of course, during the holiday season, mild and warm weather, as well as an abundance of vegetables and fruits. At this time, they begin to ripen and enter all corners of the country. Do you want to know in Siberia? Then let's talk about this in more detail. It would seem, why, if the market is full of handsome stripes. Are you sure that they are not stuffed with nitrates and other chemicals and are absolutely safe for the health of your children? Probably not. And since growing a watermelon in Siberia is not particularly difficult, it is up to any summer resident who has a greenhouse and some free time.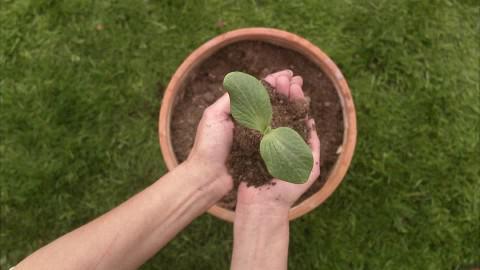 Open ground or greenhouse?
It should be immediately noted that temperatures in Siberia do not allow cultivating melons in open ground. More precisely, you can plant them, and if the summer is warm, they will safely braid your site with their strong lashes. However, the fruits will be small and not very tasty. Therefore, speaking about how to grow a watermelon in Siberia, first of all you need to consider the process of building a greenhouse.
Principles of growing watermelons
And yet, many people do not believe that this southern heat-loving culture can be grown in the coolest climate of Russia. But there are no problems with this, the technology is completely identical to the cultivation of cucumbers. The only difference is that the ripening period of early-melon is 15 days longer than that of cucumbers. And cucumbers in Russia will not surprise anyone. What rules must first be followed in order to learn how to grow a watermelon in Siberia? It is necessary to plant watermelon seedlings so that it has enough time for growth and development. In the spring you need reliable protection from late frosts: greenhouse or greenhouse. Plants need to properly form, leaving a limited number of fruits on the bush. In addition, watermelons love multiple feeding.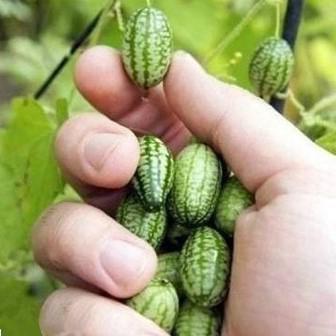 Greenhouse preparation
What does a watermelon need? First of all, the sunniest and warmest place. Your greenhouse should be located at the maximum open area, and the walls will be a reliable protection from cold winds, which the melon crops simply do not tolerate. This may be a plastic greenhouse or modern greenhouse, it all depends on your desire.Everyone can get acquainted with the greenhouse device separately, there is a lot of information on this subject, and we go further, examining how to grow watermelons in Siberia. For example, polycarbonate greenhouse proved to be excellent, but it must be remembered that its height should be at least 170 cm, as plants like to climb on the trellis.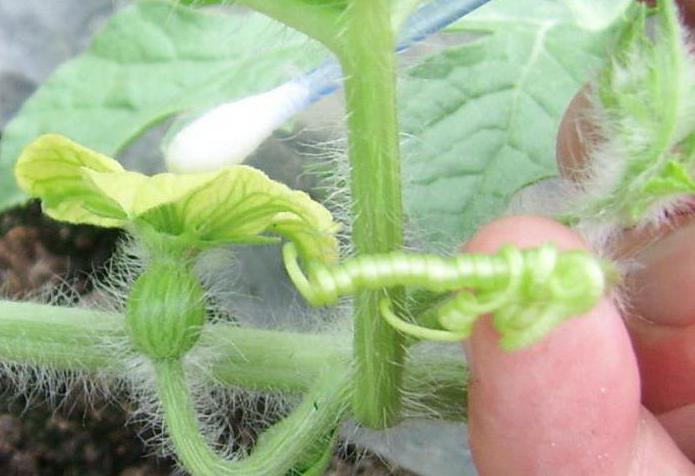 Seedling preparation
You will need seeds of ultra early variety, with a maturation period of not more than 85 days from the date of planting. Otherwise, your striped beauties just do not have time to keep up until the fall. Around the second half of April, you need to soak the seeds and prepare the seedlings. Since it will not be possible to grow watermelons in Siberia immediately in the open field, we propose to seed the seeds pre-soaked and peeking in peat cups. They endure a pick very poorly. For the soil, you can use any ready-mix. It is very important to put the cups of seeds in a warm place, then they will be covered in 2-3 days.
Speaking about how to properly grow watermelons in Siberia, one can not say about the need for hardening seedlings. As soon as the weather is sunny outside, it is necessary to start carrying out seedlings to an open place, first at 15, then for 30 minutes, gradually bringing up to an hour.Seedlings will get used to the sun's rays and will not get sick when it gets into the open ground. This also applies to those plants that will grow in the greenhouse. If you are too lazy, then you risk completely losing seedlings during transplantation.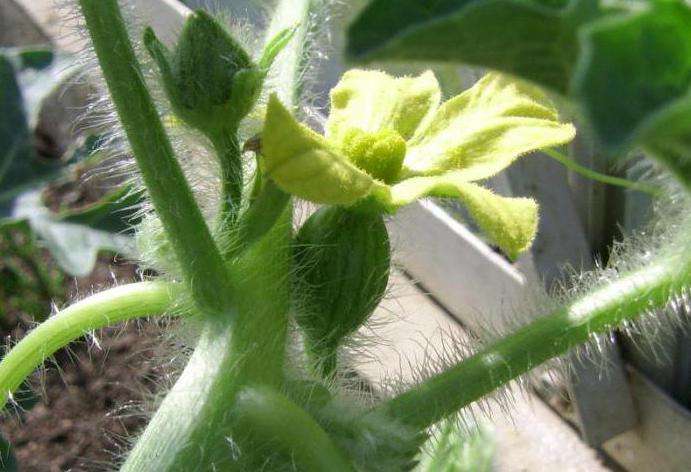 Landing in the ground
Now we will examine in more detail how to grow watermelons in Siberia in a greenhouse, since this moment is very important. It is possible to plant seedlings at the end of May, when the temperature of the soil has reached 14 degrees. Before planting it is necessary to pour plenty of warm water on the ground Along the greenhouse it is necessary to form beds of at least a meter wide. Planting of seedlings occurs at a depth of 10 cm, at a distance of about a meter from each other. The whole strip of land can not dig, and prepare the holes, as we usually plant zucchini, pumpkins and cucumbers. The diameter is about half a meter, and the distance between them is about the same. It is very important to plant a sprout together with a peat pot. Moreover, it is desirable that the pot protrudes slightly above the ground, so that the plant does not rot. In one hole you can plant two plants, spreading their whips in different directions. The first few days, seedlings do not require care, it is desirable only to cover it with a film on top to better settle down.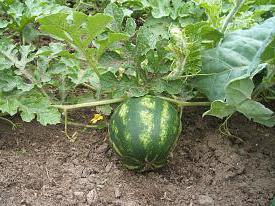 Watermelon Care
Now you know how to grow watermelon and melon in Siberia.It is necessary to tell in addition about features of care of this culture. Watermelons are very demanding for watering. Abundant watering with warm water is done in the evening about 3 times a week. In extreme heat, you can water more often. After the flowers appear, it is necessary to water only after feeding. A large amount of moisture will make the fruit watery and lead to cracking. It is necessary to regularly ventilate the greenhouse, as well as treat it from pests and diseases. About once every 10 days it is recommended to spray the bed with the drug "Fitoverm".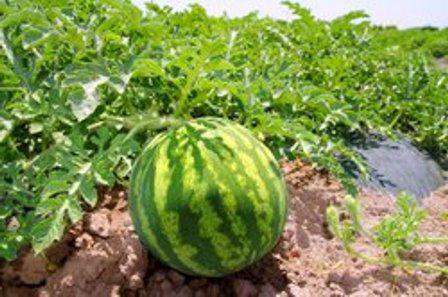 Top dressing is an important point, as watermelons are very demanding on nutrients. After the length of the whips will be 25 cm, it is necessary to feed the plants with nitrogen fertilizers. To do this, take 20 g of ammonium nitrate and 10 liters of water. Each plant will require at least 2 liters of solution. The second time feeding is carried out before the formation of buds, and the third time - after the appearance of the ovary. Do not forget that watermelons need to be tied up to the trellis, as in the greenhouse you will not create the natural conditions of the melon. The lash itself is tied up, and each watermelon is placed on a special stand or net so as not to break under its own weight.
Related news
How to grow watermelon in Siberia in a greenhouse image, picture, imagery