Mango: description, use. Nutritional value and calorie content of mango
The mango was introduced to Europe by the Portuguese at the end of the 15th century. This delicious fragrant fruit is known all over the world today. What is the calorie content of mango and its nutritional properties? Where is the fruit grown and how is it consumed in different countries of the world? This article will tell this.
Description
Mango trees (Mangifera indica) reach 35–40 m in height and 10 m in radius with the crown. The leaves of the plant are evergreen, alternate. They change their color with age - young are painted in a salmon color, then they turn red, and after maturation they turn dark green. The flowers of the mango tree are white, have a pleasant smell, reminiscent of the smell of lilies of the valley. When flowering is completed, an ovary forms, and it takes three to six months to ripen the fruit.
Mangoes are drupes, which are surrounded by juicy pulp. They hang from the tree on long stems.Ripened, they can be painted in different colors. For example, the side of the fruit facing the sun has a red hue, and the one that is yellow in the shade. Ripe fruits have a characteristic resinous sweetish smell. In the center there is a single flat oblong seed, which, depending on the variety, can be smooth or fibrous. Fruits can reach very large sizes and weigh more than a kilogram.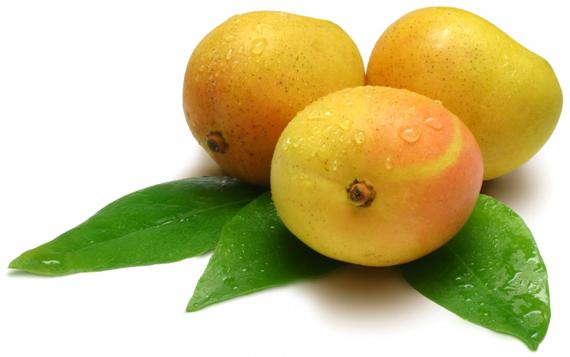 Growing up
Mango today is widely cultivated as a fruit tree in countries with a tropical and subtropical climate - this is the entire territory of the Indian subcontinent, North, South and Central America, the Caribbean, South and Central Africa, Australia and Southeast Asia. The plant is unpretentious in growing. There are more than one hundred varieties of this exotic fruit. Around the world, it is mainly consumed fresh. Calorie mango allows you to use it as an ingredient for various dietary dishes, because it is only 70 kcal.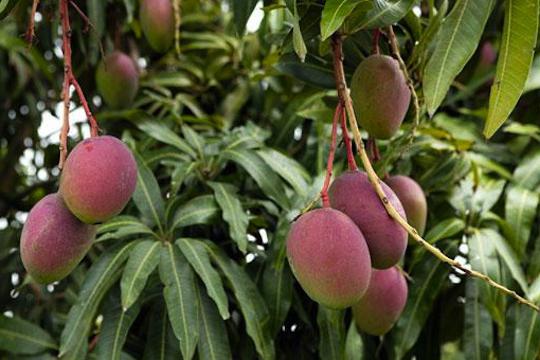 Using mango
The pulp of ripe mango is very sweet, aromatic, with a unique taste. Ripened fruits may have different softness - it varies depending on the variety.Some fruits have juicy flesh, like plum, others - as thick and hard as avocados. Some varieties contain fiber in the fruit. The fruit not only has a pleasant taste and aroma, but also contains a lot of water, therefore, having eaten it, you can eat and quench your thirst. Calorie fresh mango, equal to 70 kcal, allows you to safely snack on this fruit, if you are on a diet. In India, the fruits are sliced ​​and dried, and then sold as chewing candy in bars. Also part of the meal of the Indians is mango juice. Many people like to eat unripe sour fruits, they are eaten with salt and chili pepper. Fruit is also widely used as an ingredient for making muesli.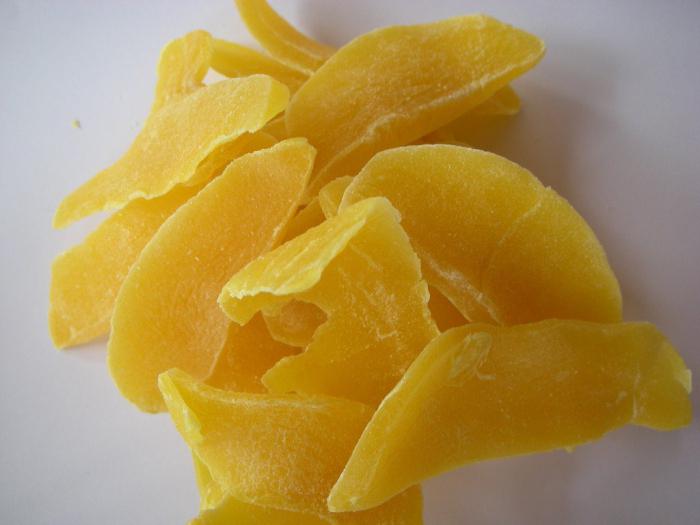 In the Philippines, they eat unripe mangoes with bagung shrimp sauce. Sweet dried strips of ripe fruit have gained popularity both domestically and abroad. By the way, one of the most juicy and delicious varieties bred in the Philippines. This is the sweetest of the varieties, so the calorie content of mango of this variety can be slightly higher due to the high content of sugars and be 80 kcal. In Southeast Asia, fruit is pickled and consumed with fish sauce and rice vinegar. It is also used for juice - both ripe and unripe fruits are suitable for this.Slices of mango are used in the preparation of ice cream, a refreshing milkshake, as a filling for the cake.
Stuffed pepper and mango: what is common
In Thailand and other Asian countries, sweet sticky rice flavored with coconut juice is served with mango slices in the form of a dessert. In India, unripe fruits are dried and used to create spices, known as amchur. Interestingly, sweet Bulgarian pepper used to be known as mango in some parts of the West. A fruit appeared later, but an outdated colloquial name is sometimes used to refer to pepper. So do not be surprised if the stuffed mango in the menu in restaurants or cafes in the Midwest will be offered as a main dish.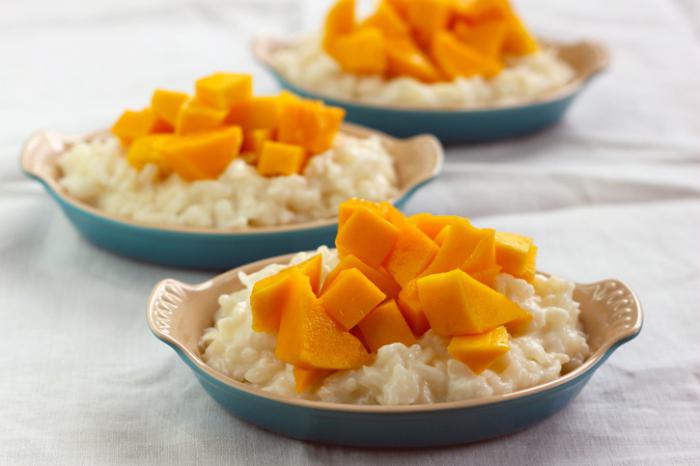 Nutritional properties
Mango contains many vitamins, minerals and antioxidants, as well as enzymes such as lactose and magniferin, which help digestion and maintain intestinal health. By the way, in some parts of Southeast Asia, among Muslim men, mango is used as an additive to increase potency.
The caloric value per 100 grams of the crude product is 70 kcal or 270 kJ.Also in this amount of fruit there are 17 g of carbohydrates, 1.8 g of dietary fiber, 14.8 g of simple sugars, 0.27 g of fat, 0.82 g of protein. Mango calories may vary slightly depending on the variety or method of preparation. The pulp of the fruit includes such valuable substances as vitamin A, thiamine, riboflavin, pantothenic acid, niacin, folic acid, vitamins B6 and C, calcium, magnesium, phosphorus, zinc. Dried mango is very useful, its caloric content is higher than that of fresh, and is 314 kcal per 100 g of dried fruit.
Related news
Mango: description, use. Nutritional value and calorie content of mango image, picture, imagery