Medication "Kapsikam": instructions for use
The medicine "Kapsikap" is a combined medicine that creates a painkiller and irritant effect, is used for joint and muscle pain.
Therapeutic effect means "Kapsikam"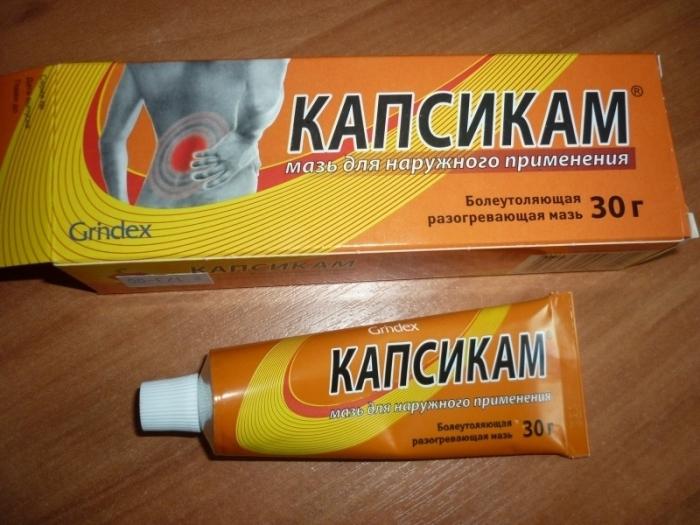 Instructions for use indicates that the active ingredients give the drug analgesic, vasodilator, irritant and anti-inflammatory properties. The drug is quickly absorbed, and after a couple of minutes there is a feeling of heat, there is a burning sensation, muscle tension and pain symptoms are relieved. Within two hours, the skin temperature rises by several degrees. The analgesic effect occurs after thirty minutes and lasts up to six hours. As a result of drug irritation in small areas of the skin, a rush of blood is caused, which is the cause of relief from rheumatic conditions, injuries and bruises. The drug is made in the form of an ointment, which contains dimethyl sulfoxide, racemic camphor, gum turpentine, nonivamid, benzyl nicotinate.Auxiliary components include emulsifier, sodium cetylstearyl sulfate, bronopol, polysorbate.
Indications means "Kapsikam"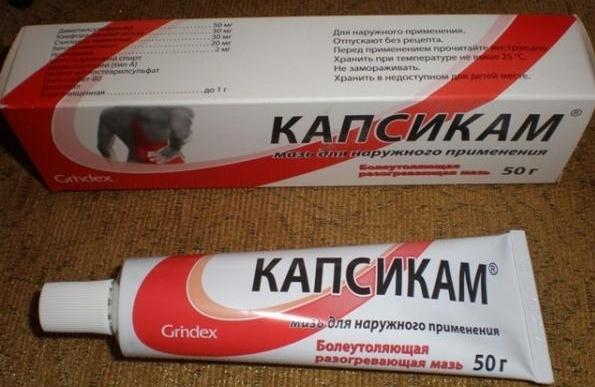 Instructions for use explains that the drug is used for myalgia and arthralgia. The drug is often used by athletes to warm up before training the muscle tissue.
Contraindications medication "Kapsikam"
Instructions for use indicates that you can not use the drug in case of hypersensitivity and skin diseases. Do not prescribe the drug in childhood, pregnant women and lactating. Reviews indicate that the drug causes quite a strong burning sensation. Before using the tool should check the reaction of the skin, causing a small amount of ointment. Data overdose available.
Medication "Kapsikam": instructions for use
The tool is used externally, causing with myalgia and arthralgia a few grams of the drug on the affected area and rubbing. Therapy is carried out three times a day. The treatment period is 10 days. Athletes apply ointment to the muscles as a warming agent, and after training they wash off the product with warm water.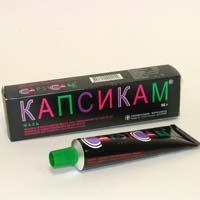 The medicine "Kapsikam": use and side effects
The use of ointment can cause allergic reactions that occur in the form of edema, urticaria, redness or itching. Do not hit drugs on mucous membranes and open wounds. As part of a complex treatment, the drug is used for the treatment of cellulite, producing hot wraps. A mixture of caffeinated ointment is rubbed into the thighs, a plastic wrap is applied on top and well wrapped. To reduce the burning sensation, add a baby cream to the composition. Since the tool is not intended to treat cellulite, it can cause heart complications, allergies and fainting. Before using the drug should consult a doctor.
Medication "Kapsikam": price and analogues
The cost of the drug is 180 rubles. Means "Finalgon", "Traumel", "Viprosal" have a similar effect.
Related news
Medication Kapsikam: instructions for use image, picture, imagery