Olivier (salad): a classic recipe and several original
Classic Olivier Salad Recipe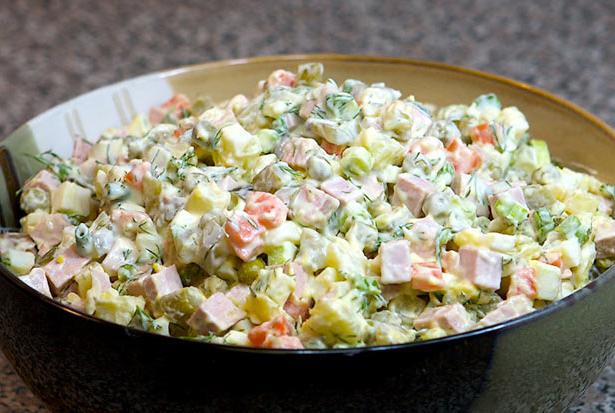 You might be surprised that Olivier is a salad, the recipe of which was invented by a Frenchman, is called Russian salad abroad, that is, "Russian salad". This is due to its immense popularity in the countries of the former USSR. In fact, the Frenchman Olivier lived in Moscow, and here he created his famous culinary work, which, according to historical sources (the Alexandrovo culinary book) consisted of the following ingredients: hazel grouses, boiled potatoes, lightly salted cucumbers, lettuce leaves, cancer necks, lanspeek broth, Provencal sauce, olives and capers. As you can see, the salad includes the most refined ingredients, which were later called bourgeois. Later they were replaced by more affordable ones: instead of hazel grouses - the meat of other poultry, that is, chicken, or even simpler - doctor sausage, instead of capers green canned peas, the sauce was one - industrial mayonnaise.Also, the Soviet version of Olivier included eggs, potatoes, pickles and carrots.
Foreign view on Olivier
Salad, the recipe of which is given below - this is how foreigners see the "Russian salad". In fact, it differs little from the salad that many of us cook for the New Year. For him we need:
half a kilo of ham;
1 jar of green peas;
3 medium sized potatoes;
4-5 medium carrots;
5-6 eggs;
1 bunch fresh onion;
1 bunch fresh dill;
5-6 pickled cucumbers (without vinegar!);
black pepper;
salt and mayonnaise to taste.
Carrots, potatoes and eggs should be boiled and allowed to cool. All this is cut into the same cubes, added peas. Then you also need to dice the ham, cucumbers, chop the green onions and dill. Everything is mixed, dressed with mayonnaise, salted and pepper to taste. As you can see, nothing complicated! This kind of salad is famous in the West as "Russian". Next, let's see how to cook the original Russian salad. The recipe will not be radically different, but still some ingredients will give a new shade to the usual taste.
Olivier Salad - Original Recipe from Kiwi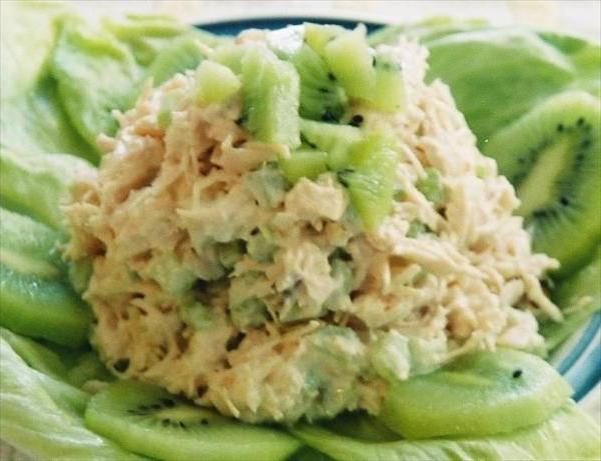 Bring a little bit of exotic in the usual Olivier! The salad, the recipe of which is given here, will surprise your guests, although it will not leave any doubt that it is he who is Olivier.For this salad will be needed: 400 g of boiled chicken breast, 4 medium boiled potatoes, 4 boiled eggs, 1 boiled carrot, 2 boiled kiwi (a joke, kiwi need fresh), a can of green peas, 100 grams of lean ham, one small onion, several pickled cucumbers. Salad dressing is prepared as follows: half a glass of sour cream should be mixed with the same amount of mayonnaise. Ingredients are cut into cubes, including peeled kiwi. Peas are added. Then the salad is refilled. He needs to give some time to stand - and the original Olivier is ready! It differs from the usual more fresh and light taste.
The original recipe for salad Olivier in tartlets, pancakes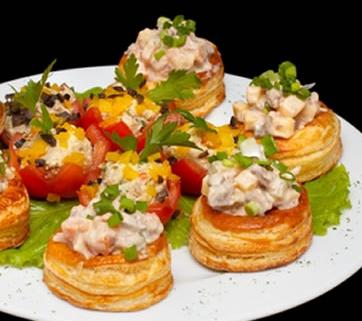 Why is Olivier worse than those salads that make pita bread or beautiful baskets of dough? That's right - nothing! You only need to buy or make your own tartlets, pita breads, pancakes, prepare the salad itself and gently spread out or wrap it. For stuffing, for example, you can take this variation of ingredients: ham, peas, potatoes, carrots, eggs, pickles and onions, as well as olives, quail eggs, parsley, salt, pepper, mayonnaise, a little mustard and paprika to revive the dressing .It is desirable to cut the components into slightly smaller than usual cubes. Decorate with greens, olives, figures of boiled carrots. You can decompose in tartlets or bags, resembling ice cream cones and arranged in a dish in the form of a bouquet. This salad is not much different in taste from the usual, but it gives the opportunity to decorate the table.
Related news
Olivier (salad): a classic recipe and several original image, picture, imagery