Spirea Gray Grefshaym: planting and care, trimming, reproduction, photo
Spirea (in Greek, the word means spiral, bend) has long been known and loved in Russia. In the people it is often called the meadowsweet, and this word is applicable to the genus Spiraea, although the meadowsweet (groundwort) refers to grassy, ​​not shrub species.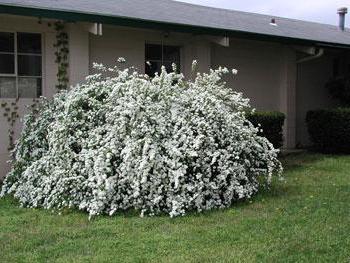 Spirea Gray Grefshaym - the most common type of ornamental shrubs in the garden plots. Its hanging branches with thick white flowers resemble a flowery waterfall.
Spirea: Varieties and Description
In the world there are 90 varieties of spirea, and they differ not only in shape and color, but also in terms of flowering.
Most of the varieties have curved hanging branches, although there are also direct-growing bushes. The separation is made at the time of flowering.
Spring varieties bloom on last year's shoots, so pruning is done immediately after flowering. Although the blooming of spring varieties of spirea is abundant, it is short and the flowers are exclusively white.
Spireas, blooming in summer, delight not only a variety of colors - from pink to crimson, but also the duration of flowering. These varieties are pruned in the spring, as they bloom on young shoots.
Spring varieties include:
Spiraea arguta (Arguta) is distinguished by long serrated leaves up to 4 cm long. White umbrella-shaped inflorescences densely cover a two-meter shrub.
Spiraea vanhouttei (Vangutta) grows up to two meters in diameter and has long arched branches.
Spiraea cinerea (gray). Gray Spirea Grefshaym (photo below) - the most frequent guest in the backyard. Its white fragrant flowers cover the bush with a solid carpet, giving it the appearance of a large white ball.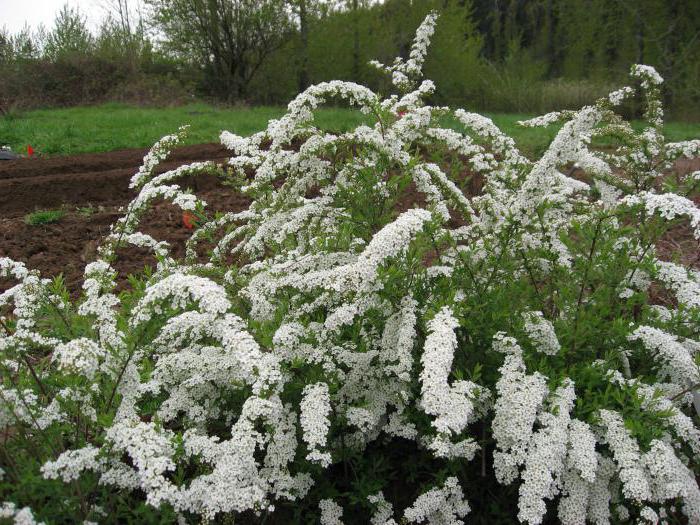 Summer varieties are most often represented by varieties:
S. Japonica (Japanese spirea). It is an erect shrub up to 1.5 meters in height with large leaves up to 10 cm in length. It blooms for a month and a half, it has many species that differ from each other in coloring.
S. betulifolia (birchwood). Unique in that its foliage, very similar in shape to birch, takes on a bright yellow and purple appearance in the fall. Inflorescences of the corymbose form are pink or white.
S. x billardii (Billard's spirea) is often planted as a hedge, as it is easy to care for and cut.It has large pyramidal inflorescences of pink color.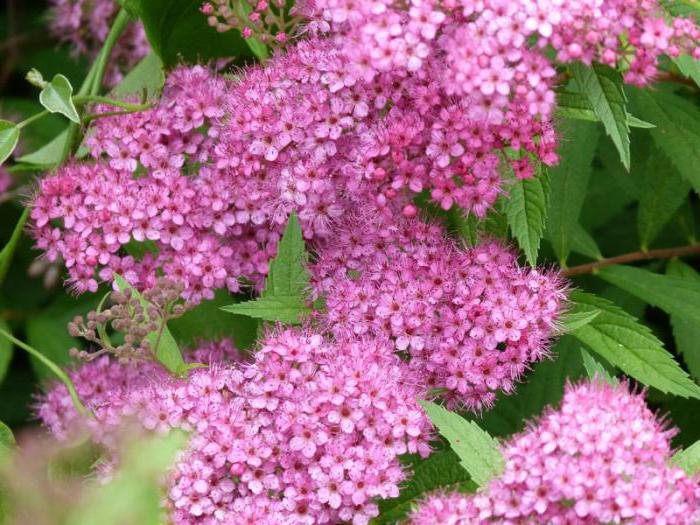 Spiraea with spike-shaped inflorescences (Douglas, Lemoine, Ivolist and others) is considered a separate species. They bloom in mid-summer, rarely reaching September.
Spirea Gray Grefshaym: the choice of landing site
This amazing plant always attracts attention. During flowering, it looks like a snowball, and during the rest period its grayish in summer and bright yellow leaves in autumn, densely covering its curving branches, resemble a ball.
For decorating the site, it is important that the plant got accustomed and grow quickly. Is no exception, and gray spiraea Grefshaym. Planting shrubs begins with the choice of location. It should be well lit, as even a penumbra slows its growth. Many gardeners plant spirea along fences on the sunny side of the site.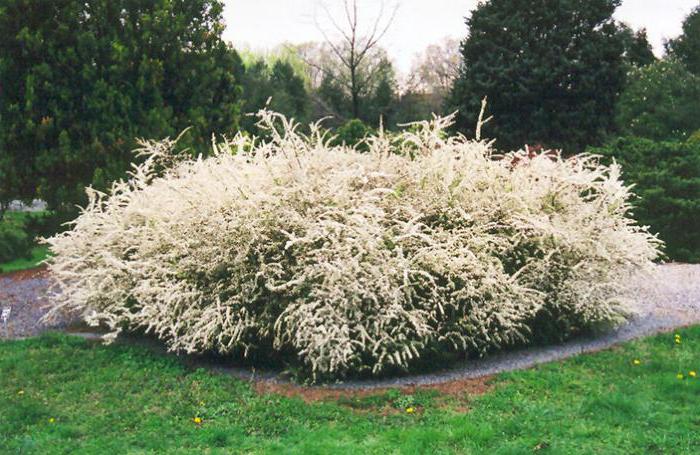 Also important is the quality of the soil in the selected area. Gray Spirea Grefshaym well acclimatized on any land (alkaline, neutral, acidic soils), if it is not overdried. The best time for planting is autumn, when the foliage has already been dropped, although it can be produced in the spring, before the buds appear.
Gray spirea planting pattern
Since the spirea gray Grefshaym grows quite powerful, then when creating a hedge it is recommended to keep the distance to half a meter between the bushes. Between the rows it is 40 cm.
If you plant plants in groups when decorating the site, then the distance should be 50-70 cm, sometimes up to one meter. The width of the landing pit for spirea should be 30 percent larger than the size of the root system. Depth ranges from 40 to 50 cm with regard to drainage.
This ratio of the distance between the bushes and the volume of the holes allows the spirea to quickly go into growth.
Spiraea Sulfur Care
Gray Spirea Grefshaym, whose care does not require close attention, is very attractive to gardeners.
For this variety, moderate watering is recommended, with soil loosening and weed harvesting. Mulching can be done to a young sapling, for which it is enough to sprinkle the earth with a layer of peat. Since the spirea gray Grefshaym is used for the formation of hedges and the delay of dust and cold air, we can safely say that it is a frost-resistant plant.
The only thing that this type of spirea badly reacts to is the temperature drop.In an unstable climate, it is advisable to cover the roots of a shrub for the winter, for which it is enough to pour a thick layer of leaves on them. One of the most important factors in the care of spirea is pruning.
Trimming Spirea Gray
In order to bloom and grow on the site of the spirea gray Grefshaym as long as possible, pruning is not carried out every year.
The peculiarity of this type of spirea is that they have flower buds covering the whole of last year's escape. If you prune annually, the bush will not bloom this season. For spirea, the trimming of only frozen tips will be optimal for sulfur, and after seven years of growth it is time to remove old branches.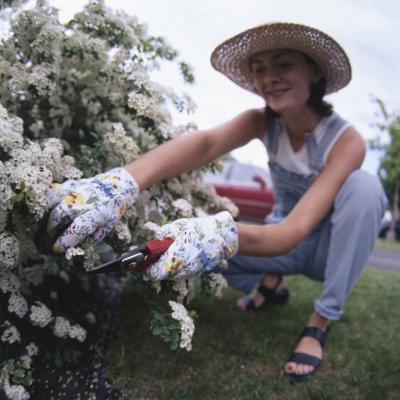 Gray Spirea Grefshaym, planting and caring for which is not at all burdensome, lives up to 30 years, so for rejuvenation of the bush is recommended to carry out deep pruning. At the same time, the plant is cut to the state of a stump, which allows it to gain strength and launch new young shoots. In the area of ​​the root collar of the spirea, there are numerous dormant buds that wake up when deep pruning is performed.
From the new shoots formed bush. It is enough to leave 5-6 strong branches, and the rest are removed during the first growing season.
It is recommended to thin out the spirea every two years, cutting off the broken and weakened shoots.To form a beautifully shaped bush, pruning should be done in early spring.
Reproduction of gray spirea Grefshaym
To grow a beautiful blooming gray spirea Grefsheim on the site, it is better to reproduce it by grafting.
Young shoots are absolutely not suitable for this, even if they give a violent color. For reproduction, it is necessary to select only woody branches, from which the top and part of the leaves are removed immediately after cutting.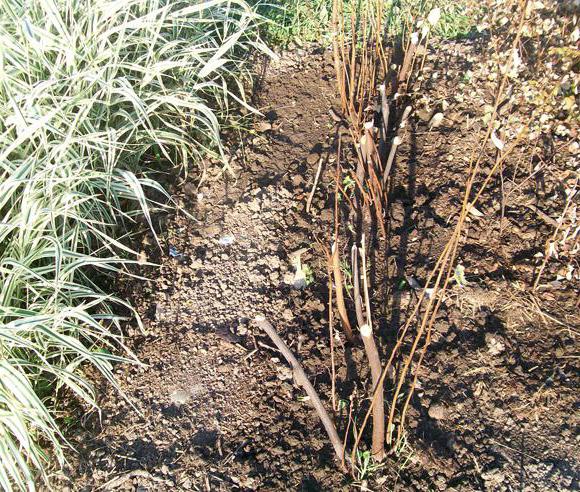 The tip of the branch needs to be cut diagonally, and then plant the cutting in a loose moist soil. For growing strong and healthy seedlings, cuttings should be planted up to 20 cm apart and kept in a warm room with high humidity. If there is no greenhouse or greenhouse, then it is important to ensure that the earth does not dry out. Frequent watering cuttings - the key to their rapid growth.
In the open ground, the roots of the cuttings can be transplanted both in spring and in autumn. Spiraea shrubs are rarely sick, but prevention from pests and diseases will not be superfluous.
Diseases and pests of gray grease spirea
Although spirea is considered to be a strong shrub, it has pests, although few.To avoid trouble, it is advisable to carry out maintenance work.
Spider mite affects not only this type of shrubs. The main signs of sabotage are the appearance of cobwebs on the shoots, the leaves have not yellowed by time, and the foliage has fallen, holes in the leaves and inflorescences and an unhealthy type of shrub. Easy to get rid of by spraying 0.3% karbofos.
Aphids primarily harm inflorescences and young foliage, as they bite off and suck the juice. Spraying with a 0.1% pyrimor solution, which is also detrimental to other types of pests, is suitable for killing aphids.
Rosaceae can wipe from 20% to 60% of shrub leaves. The caterpillar twists them and gnaws.
If you spray chemicals with spirea before the beginning of the vegetative period, then it does not face any danger, since this plant is extremely rare.
Spirea gray in the landscape
Landscape gardens are becoming increasingly popular, and shrubs such as spirea are in constant demand. They are used to create a hedge, and for alpine slides, and for group compositions.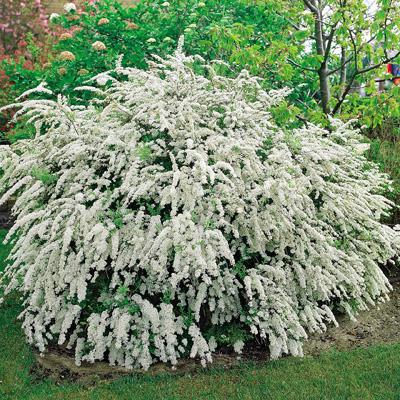 For the formation of beautiful groups the best partners for the spiraea will be the broom, viburnum, many-flowered suckers and the ephedra. On their background and in their surroundings, spirea looks even more elegant and whiter.
Related news
Spirea Gray Grefshaym: planting and care, trimming, reproduction, photo image, picture, imagery