Stroller-cane Baby Care GT4: photos, review, pros and cons of the model, customer reviews
Today, the object of our review will be the Baby Care GT4 stroller. What is this model, what are its characteristics, differences and features? From this publication, readers will learn everything about this wheelchair, and will also be able to view its photos from different angles.
Mom is comfortable, the child is comfortable
To begin with, this is a lightweight model stroller. She will be a loyal assistant for mom during trips to the shops or walks in the parks. Due to its maneuverability, terrain and compact size, Baby Care GT4 is very convenient for use in cities, with their narrow roads, an abundance of steps and lack of ramps. Many experienced mothers know firsthand that a serious hood of many canes is a small hood and a thin back, which deprives a child of a comfortable and restful sleep while walking.
However, the stroller-cane Baby Care GT4 is devoid of this minus.Moreover, very often parents are from heavy and bulky strollers and completely switch to the operation of this model. It can be used until the child is four years old, because according to the specifications declared by the manufacturer, she is able to carry children weighing up to 18 kg. In view of this, Baby Care GT4 is perfect for big kids.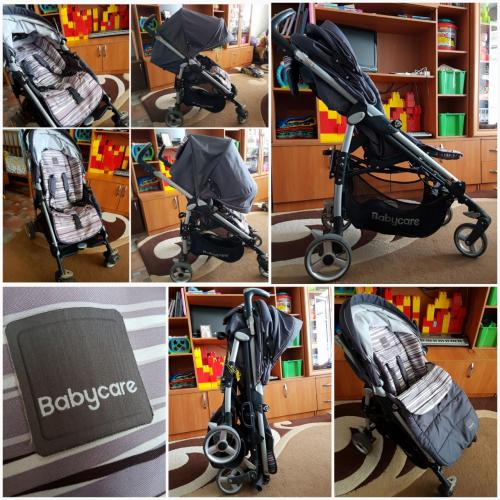 Main characteristics
As we have said, this model of a stroller is a folding cane. It is equipped with four single wheels with a rubberized surface. The rear wheels are larger than the front wheels - 18 and 16 cm in diameter, respectively. The width of the base - 51 cm, is a standard parameter that provides the ability to easily raise and lower children's transport along ramps. On the front wheels there are clips that block the swivel mechanism. The brake in this model is pinion, the brake pedals are mounted on the rear wheels. The backrest is adjustable in three positions, and the footrest can also be raised and lowered as needed.
In the unfolded form, the stroller has an excellent berth with a length of 78 cm. The seat width is 34 cm, the depth with the footrest lowered is 19 cm.Fabric coating dense, with stain-resistant properties. It is easy to care for him, removable parts can be washed in a typewriter. In addition, as noted by the parents, the Baby Care GT4 stroller does not fade in the sun, and the metal parts are covered with a corrosion-resistant coating that does not allow their destruction.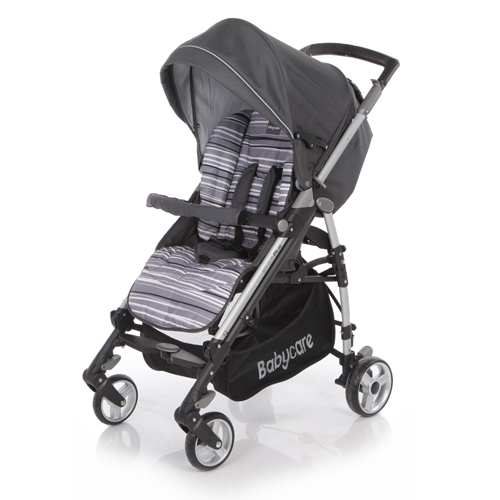 Equipment
The standard package includes a rain cover made of transparent vinyl and a warm cover for the legs. Some mothers can not immediately figure out how it is attached to the stroller. To do this, insert the buttons into the special grooves that are mounted in the frame.
Like any similar model of the pram, the Baby Care GT4 has a basket for the carriage of cargo; the maximum weight provided for its filling should not exceed 2-3 kg. The bumper to prevent the baby from falling out while in the wheelchair is removable. It has a special movable design for easy folding of the stroller. The latch holding it on the frame has a double lock, thanks to which the child will not be able to unfasten itself. Additional safety of the child is provided by five-point seat belts.Soft pads in the child's groin and chest area will not allow the straps to rub the baby's delicate skin.
The bonnet protecting the child from the sun, wind and precipitation is revealed in several positions. In the maximum unfolded position, he reaches the bumper. In its rear part there is a viewing window which can be closed with a flap with a miniature pocket for a handkerchief, pacifier or teether.
Additionally, you can purchase a mosquito net, organizer, cover for storing and transporting strollers, various mattresses and warming inserts (including other companies). Also, this model is compatible with universal steps, which can carry a second child.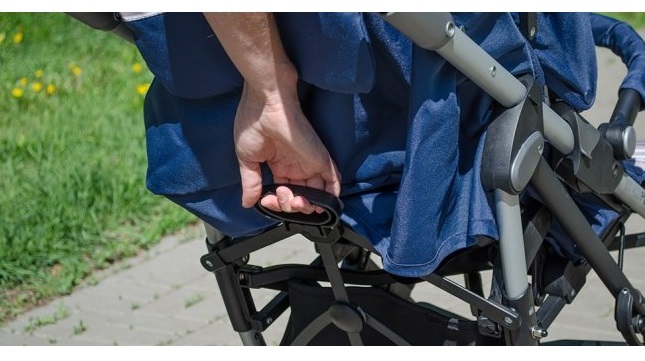 Stroller Features
What makes this stroller different from others, makes it special and worth the attention of parents? First of all, the fact that it is very convenient for both adults and children. Kids can comfortably sit in a deep and spacious seat, because it will fit even for those boys and girls who are ahead of their friends in height and weight. The stroller is very compact, it is noteworthy that when folded it takes up very little space, easily fits in the trunk of a car.Finding a suitable place for her in an apartment is also not difficult. When assembled, the stroller can not only be put on the floor, but also put. The wheels do not touch the textile elements of the cover or seat, they "look" out.
For the convenience of transporting the stroller from one place to another, it has a plastic handle. Operated by a stroller with two hands. The handles can be adjusted in height, which is extremely rare in canes. Those parents who do not like the model with two handles should pay attention to the Baby Care GT4 Plus stroller. It is almost identical with the model under discussion, but it has a single solid handle, not two.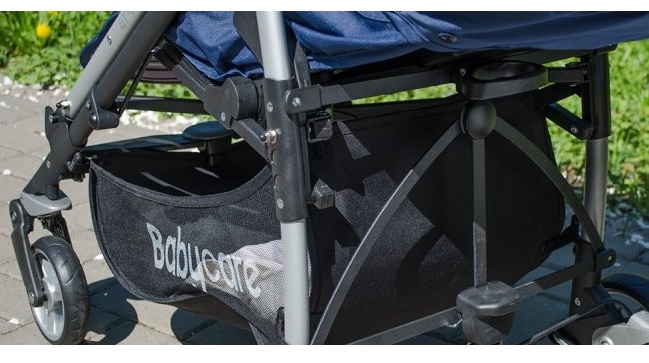 Pros model
So, what most attracts customers in this stroller? In addition to technical characteristics, we also carefully reviewed the reviews. Baby Care GT4, according to parents. good for a variety of reasons:
it is reliable;
durable;
she has an attractive design;
it is functional;
she has a good grade;
It fully justifies its price.
Moms also note that this stroller is surprisingly stable. Thanks to its solid weight, like a cane (10 kg), it does not turn over, even if you hang shopping bags on its handles. Many still note the good quality of the wheels in the stroller.Despite the seeming fragility, she rides well not only on city sidewalks, but also on country roads. Moreover, some mothers indicate that they use the stroller during the winter season, successfully overcoming snow and ice on the streets.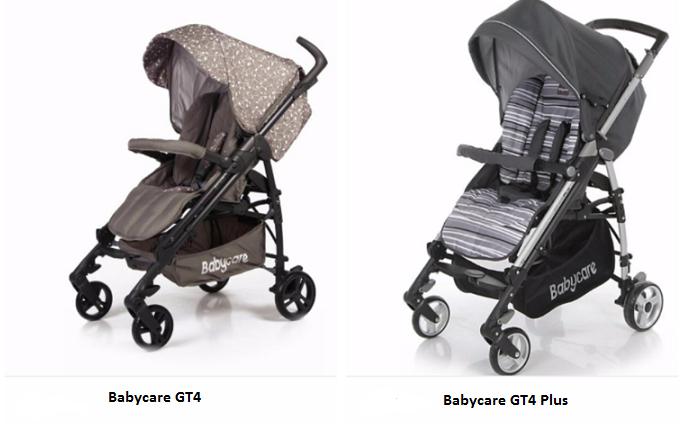 Cons stroller
The disadvantages of this model include the lack of complete mosquito nets. Nevertheless, Baby Care GT4 is more designed for the summer season, when there are a lot of mosquitoes and flies on the street, and therefore this accessory would not hurt much.
Another significant minus the stroller - it can not be folded and laid out with one hand. To transform, you must simultaneously press a special key located on the frame and pull up the handle. There were also many complaints from parents on short seat belts. Especially often this nuance was found in old models. As for the newer ones, for example, Baby Care GT4 Plus, reviews claim that manufacturers have already corrected this mistake.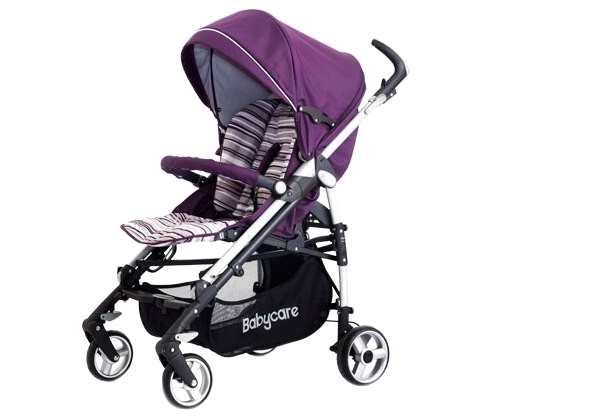 Where to buy and how much is this model
The stroller from our review has not been discontinued at the moment, so it is freely available in almost any children's store. They are traded and various Internet sites.This model is available in several colors:
Gray;
gray with a pattern;
blue;
blue with a pattern;
blue cell;
purple;
red.
The average price of the stroller is 6 thousand rubles. Moms write that in online stores the cost of this model is lower than in real outlets.
Owner reviews
Most parents strongly recommend Baby Care strollers for purchase. The products of this manufacturer are pretty good ratings, despite the fact that products are manufactured in China. Nevertheless, moms claim that they have not been in a wheelchair for more than one season, moreover - not one child. Minor flaws of this model are fully compensated by its advantages. And if you take into account the very reasonable price for the Baby Care GT4, then it is not surprising that it enjoys such popularity among young parents.
Related news
Stroller-cane Baby Care GT4: photos, review, pros and cons of the model, customer reviews image, picture, imagery