Tomato Puzata hata: reviews, variety description, yield, photo
Tomatoes for many of our compatriots are not only a tasty vegetable. Many people love tomatoes, often planted in the summer cottage several varieties. Each of them is used for specific purposes: fresh consumption, preservation, pickling, making tomato juice.
Among the wide variety of tomato varieties Puzata Hata is not only the name. So what are its features and benefits?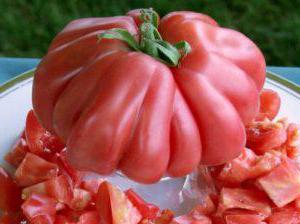 Tomato features
All gardeners are closely watching the innovations in the vegetable market. The emergence of a new variety is accompanied by a stormy discussion in the forums. Often among the reviews about the tomato Puzata Hata mention the original appearance.
This variety pleases many gardeners with their performance. It can be grown in greenhouses and on the street in any region of our country.
Early high yield is appreciated by many gardeners. It is worth noting a large weight of the fruit.With good care, some of them can reach 0.5 kg. These are not all the benefits of tomato Puzata hut. Reviews on the Internet say about the many advantages of this variety.
The disadvantages include the need to form and tie up the plant. But such methods of agricultural engineering are inherent in many other tomatoes with large fruits.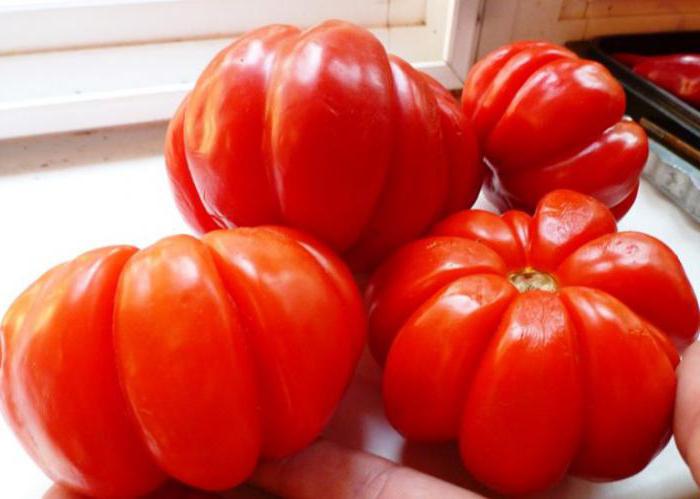 Description of the variety
Before you buy a new variety of plants for the dacha, many are interested in reviews and photos. Puzata tomatoes hut immediately attracted to the original form of the fruit.
Variety refers to the early ripening. From the emergence of shoots to the harvesting period takes about 90 days. At this time, the first harvest is harvested. The period of fruiting is extended, which contributes to obtaining a quality crop for a long time. Most often, these tomatoes are grown in greenhouses. But they grow well in the open field.
Often the bush consists of one stem, sometimes form two. Remember, you must regularly remove stepchildren who are pulling extra nutrients from the plant.
Experts consider this variety to be indeterminate. In other words, the plant does not have an end point to stop the growth of the bush.When planted in open ground, the plant reaches 1.2 m in height, in the greenhouse - 1.7 m. Under favorable conditions, the bush can reach 2 m in height.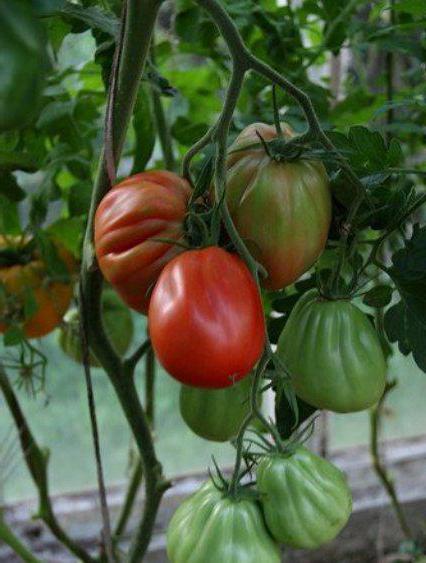 This variety is characterized by moderate foliage, weak stems and a strong root system. For this reason, it is necessary to tie up a Puzata hut tomato. The feedback from experienced gardeners suggests that this stage should definitely be carried out if heavy rains and winds are frequent in the region. Often 3-5 fruits are formed on the hand. When planting, keep in mind that at 1 m2there should be no more than 3 bushes.
Productivity and taste of tomato
Reviews about tomato Puzata Hut only positive. The fruits are large, on average, their weight is 300 g. Under ideal conditions, some gardeners received tomatoes weighing up to 700 g. Ripe fruits have a bright pink or red color.
The flesh of tomatoes is tender, juicy, tasty. There is a slight sourness. Inside are some seeds. The skin is dense, so overripe vegetables practically do not crack.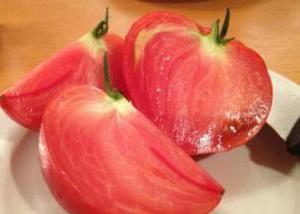 Everyone who planted a tomato Puzata hut, reviews and photos are actively spreading on the Internet. After all, the unique shape of the fruit interests many gourmets.Outwardly, they resemble a pumpkin. Elongated, pear-shaped, round and ribbed tomatoes look very attractive.
Tomato use
When growing any crop in agriculture, yield indicators are very important. It is Puzata Khata that is characterized by a high level of this indicator. From 1 m2You can get up to 11 kg of large, selected fruits.
Most often, it is in the raw state that gardeners recommend using these tomatoes in their responses. The tomato variety Puzata Khata is characterized by its fleshy and pleasant taste. Homemade tomato juice is delicious. This variety is also used for preservation.
The advantages of the variety
Deciding to grow a new crop in your backyard, you need to familiarize yourself with all the information: description of the variety, photos, reviews. Tomato Puzata hata has been actively discussed for a long time on the Internet by summer residents. Many emphasize the following benefits of the variety:
good yield stability;
resistance to many diseases;
good keeping quality of fruits, the possibility of their transportation.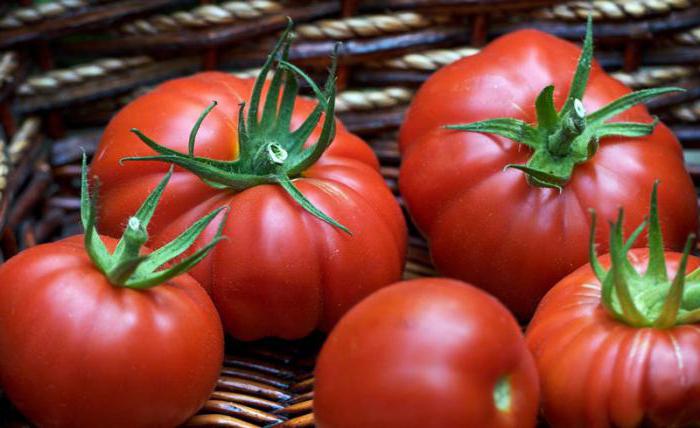 Many gardeners have their own preferences for growing vegetables.Some like tomatoes of a small form, but others prefer varieties of large sizes. The ribbed, fleshy and large tomato Puzata Khata is intended for the second category of summer residents. Characteristics and reviews of this variety will surprise many summer people.
Tomatoes taste good. They contain a lot of sugar, so there is almost no sourness. Some gardeners claim that it is pleasant to eat, like a fruit, without cutting and salt.
Fruits contain many amino acids, so they are very useful for children.
In the care of this variety of tomatoes quite unpretentious.
Lack of variety
Compared with the numerous advantages, the disadvantages of this variety are minimal. There are only two of them:
mandatory formation of a bush;
demanding of the soil.
Each bush pot-bellied hut should be formed. But this disadvantage applies to almost all tall tomatoes. They must be tied up and protected from gusts of wind.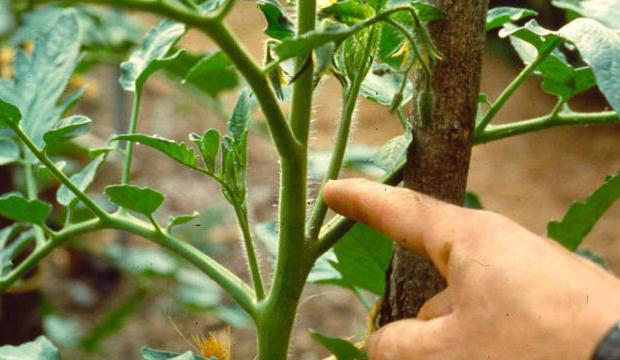 A serious disadvantage of this variety is the demands of the plant to the composition of the soil and micronutrients in it. But to solve this problem is easy. It is enough to adjust the features of the soil dressing.
Features of growing
First of all, should be grown seedlings. To do this, prepare special pots with soil. The soil should be mixed with humus, which will give all the nutrients to the sprouts.
It is necessary to sow seeds into soil in early March. It is desirable to pretreat the planting material with a special growth stimulator. Seeds are sown to a depth of 2 cm. The soil is watered, covered with a film to create greenhouse conditions and placed in a warm place.
After the first shoots appear, the boxes should be moved closer to the light. Watering should be moderate. Use warm soft water. After the appearance of the first true leaves should be dive seedlings. After priming again fertilized.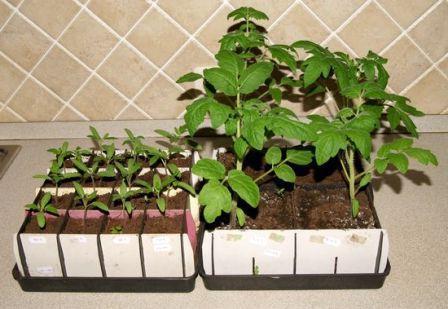 Starting from mid-May until its end, seedlings can be planted in open ground or a greenhouse. Often gardeners are reconciled with the lunar calendar, which suggests the most auspicious day for planting seedlings. If possible, in the first days of the seedlings should be covered with a film.
When landing, remember that at 1 m2It is necessary to plant 3-4 bush. Just a few weeks should begin to form it.It is better to leave 1 or 2 stalks, immediately removing the stepchildren. For more yield should be left no more than 8 brushes. Many gardeners limit the growth of a tomato by lightly pinching the top of the head. As soon as the fruits begin to ripen, the plants should be tied to the stakes.
Remember, watering should be done with soft, warm water. It should regularly loosen the soil. Every 2 weeks it is necessary to fertilize the soil with mineral complexes or bird droppings diluted in water. Superphosphates are also used as feedings.
Pests and diseases
We already know a lot about Tomato Puzata Hata (reviews, yield). Photos of the fruit attract attention, are of interest. One of the advantages of this variety is resistance to many diseases and pests. But many gardeners advise to carry out preventive measures even in greenhouse conditions.
Before planting, seedlings should be disinfected with a solution of copper sulphate or potassium permanganate. Also, the soil is mulched with straw, peat, humus. This prevents the development of root rot.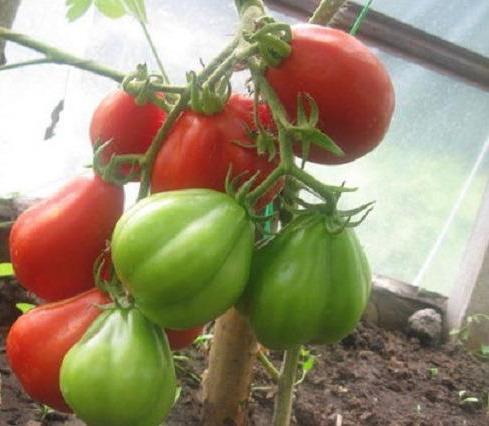 Prevention of pests is to regularly inspect the bushes, spraying with potassium permanganate.Get rid of the aphids will help soapy water, which washed all the affected parts of the bush. When a whitefly, tips or spider mite appears, industrial insecticides should be used.
Conclusion
Many summer residents have long considered this variety promising. They will satisfy the taste, size, yield and shape of tomatoes. Having planted this variety once, many gardeners reuse it for many years.
Related news
Tomato Puzata hata: reviews, variety description, yield, photo image, picture, imagery