Vegetable stew with chicken and not only
Vegetable stew - a dish that many of us love very much. And this is not surprising, because it combines the ease of preparation, availability of ingredients and, of course, amazing taste. Recall, for example, how nice it was to eat vegetable stew with chicken ... Today we look at some interesting recipes for this delicious dish.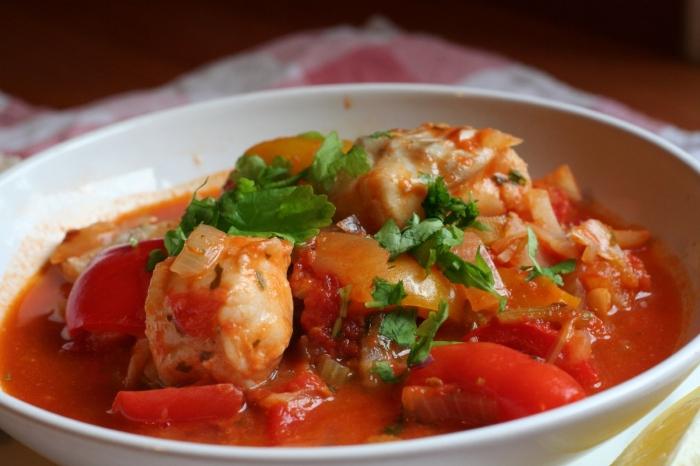 Chicken Vegetable Stew
Ingredients:
500 grams of chicken meat;
1 small onion;
2 medium eggplants;
2 young squash;
3 bell peppers;
3 potato tubers;
cauliflower;
salt, pepper, butter.
Cooking
To begin, all the ingredients must be prepared, that is, washed and crushed. The chicken must be boiled and cleaned the meat from the skin, bones, tendons. Then, all that remains is to cut into small cubes. Chop the onion finely. Eggplant, potatoes and zucchini cut into medium-sized pieces. Do not shallow them too much, because we are cooking vegetable stew with chicken, not soup. Eggplant, place for 10 minutes in cold water. Pepper cut into strips with a length of 1.5-2 centimeters.Cauliflower cut or tear into individual florets. Now we take utyatnitsa, deep skillet or cauldron, if you have one. We pour oil, it can be put a little more than usual - so the dish will be more nutritious and appetizing, because the chicken will not give fat, like vegetables. Fry the meat for 3 minutes. Add the onion and continue roasting until the mixture turns golden. Now you can put the potatoes. After about 5 minutes, add all the remaining products and simmer until tender. Do not forget to salt and pepper your masterpiece. Now you know how to cook vegetable stew with chicken! Now consider the recipe for another tasty dish.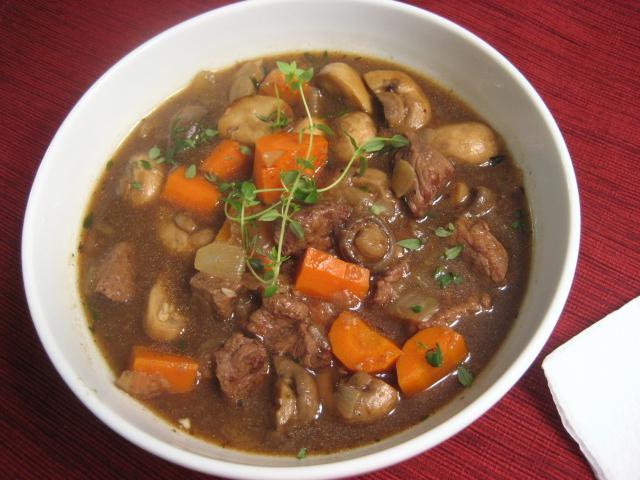 Vegetable stew with beef
Ingredients:
400 grams of beef;
5 medium potatoes;
2 small zucchini;
1 carrot;
2 onions;
2 small tomatoes;
2 red bell peppers;
sunflower oil;
salt pepper.
Cooking
The meat should be cut into small pieces about 2 centimeters in size. We send it to the pan, pre-pouring into it a couple of tablespoons of sunflower oil and 1 spoon of apple cider vinegar to soften the beef. 5 minutes later add onions and carrots to it.First cut into small pieces until the beef is fried. Grate carrots. Now, having sent all this to the pan, fry the mixture for 6 minutes and, closing the lid, simmer on the smallest fire for about 25 minutes. At this time, cut the remaining ingredients, except tomatoes. From them we will make pasta. To do this, remove them from the skin, dropping for 40 seconds in a bowl of boiling water. Then put the tomatoes in a blender and scroll through them. Seeds can be filtered through the mesh, but you can leave. After 25 minutes, put the stew in the pan. Add the potatoes and simmer for 7 minutes. Then add pepper, our tomato paste. Stew it all for another 5 minutes. Put zucchini. Stew until ready for at least 15 minutes. In the process of cooking, you can add a little water to the pan so that the dish does not burn or does not turn out too dry.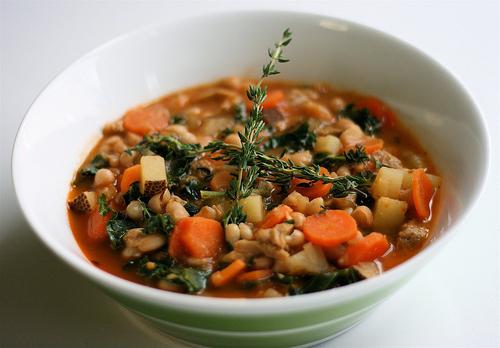 Vegetable stew with beans
Ingredients:
200 grams of white beans;
1 eggplant;
1 small carrot;
1 onion;
1/2 head of garlic;
1/2 bell pepper;
80-100 grams of tomato paste;
Apple vinegar;
salt.
Cooking
Soak the beans for several hours and then cook them until ready. Wash and chop vegetables. Fry them in a frying pan.Put the carrots first, then the onions, peppers, and eggplants. Mix well. Mix tomato paste with a spoonful of sugar, salt and 50 grams of apple cider vinegar. Add this mixture to the vegetables. Stir. Now add the beans. Mix everything well again. Warm the mixture. Can be served on the table.
Related news
Vegetable stew with chicken and not only image, picture, imagery