What is a geographic language, and what are its causes?
The disease manifests itself in stains and cracks formed in the language in red, circled by a white rim of detached epithelium.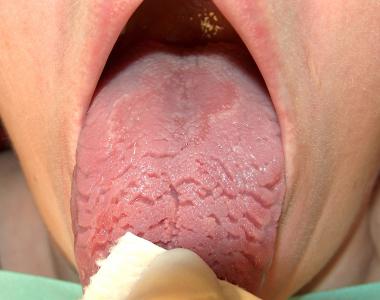 What are the reasons for developing a geographic language?
The development of this disease occurs as a result of eating disorders of the tissues of the tongue. Geographic language can appear in diseases of the stomach, intestines, spleen, liver, pancreas, kidney disease and helminthic invasion.
Geographical language in children
Such a disease in children appears in the period of teething. This disease often occurs in girls at puberty before or during menstruation. This feature can remain for life, but more often in the process of growing up passes. In some cases, anemia and avitaminosis can become sources of geographic language formation. Geographic language can appear during vegetative-endocrine changes, infectious diseases of the acute form or collagen diseases.The occurrence of this disease is often influenced by heredity.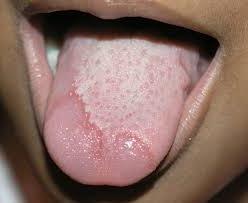 Symptoms of the disease
Desquamation of the epithelium of the tongue is the main manifestation of the disease called "geographic language". Desquamation contributes to the formation of one or several spots of bright red color, different in configuration and size. In appearance, they are smooth, outlined by a light border, consisting of opacified epithelium. As a result, on the surface of the language are visible interesting pictures that have similarities with the geographical map. In most cases, pain in the language is absent. But sometimes there may be tingling or tingling sensations in the abdomen, aggravated by eating. There are cases when there is a change in the reception of taste.
Diagnostics
It is almost impossible to establish the source due to which a geographic language appears, therefore all diseases developing in parallel are investigated. Be sure to collect history. Diagnosis is not required if the girl is in puberty, or the child has teeth cut. For research, stool tests, general urine and blood tests are assigned, an individual method of treatment is selected.If there is a possibility of diseases of the gastrointestinal tract, a special examination is appointed.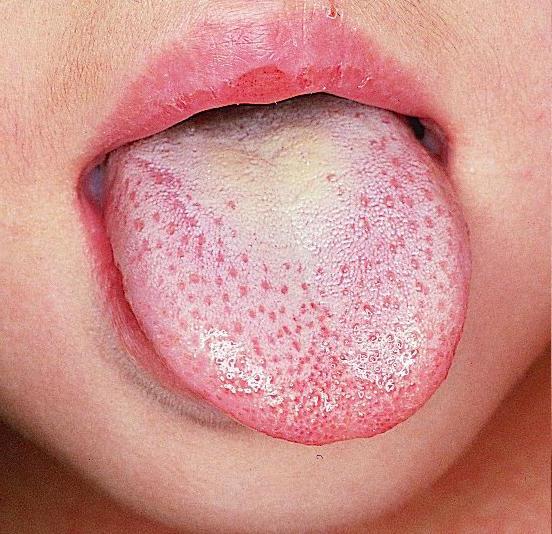 Geographic Language Therapy
When a geographic language arises due to physiological changes in the body and in the absence of any anxiety, treatment is not indicated. But in the formation of diseases of the gastrointestinal tract, worm infestation and anemia, treatment is aimed at eliminating the causes of development. Most often, the elimination of the root causes everything goes. If there is a geographic tongue, the treatment includes a complete improvement of the oral cavity: caries is being treated, tartar is removed, etc. When pain is felt, the use of painkillers is recommended: baths from sterilized sunflower oil. You will also need to exclude from the diet coarse, spicy and salty foods that contribute to irritation in the desquamation zone.
Related news
What is a geographic language, and what are its causes image, picture, imagery