When is the solution used "Fukortsin"?
Solution "Fukortsin" (another name - liquid Castellani) - a drug that has antifungal and antiseptic action.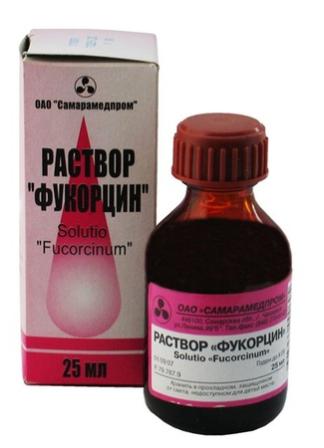 Drug description
"Fukortsin" in its composition contains:
Available drug in the form of an aqueous or alcoholic solution of a bright crimson color. There is also a colorless solution "Fukortsin", but since it lacks Fuchsin, which has a good antifungal effect, this type of drug will not be effective in the treatment of fungal diseases.
Indications for use
The drug is intended for external use only. Use the solution for fungal lesions, cracks, abrasions, skin erosion. In addition to antimicrobial action, the tool has a good drying effect, therefore, Fukortsin is also used for stomatitis, diaper rash, chicken pox.
The drug is applied to the affected areas dotted with a swab or cotton swab. Treat skin from 2 to 5 times a day.After treatment, dried up areas are recommended to lubricate with nourishing cream.
How to wash "Fukortsin" from the skin?
The disadvantage of the product is persistent staining of the skin, as well as after applying a solution of brilliant green (Zelenka). You can wait until "Fukortsin" come off the skin gradually, or try to speed up the process. There are several effective ways to help get rid of unwanted traces of the drug:
Apply a little baby cream on a cotton pad and rub the colored skin area with it.
Prepare a soap solution (it is better to choose a laundry soap) and treat the skin with it.
Buy ready-made vitamin C powder at a pharmacy, dissolve it in warm water and rinse out Fukortsin.
Salicylic alcohol or hydrogen peroxide can also cleanse the skin.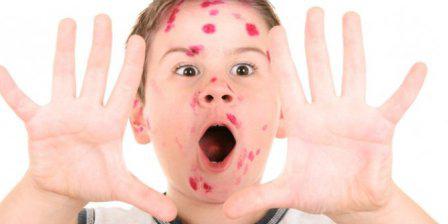 Contraindications to the use of the drug
The solution "Fukortsin" is contraindicated in chronic dermatoses, any manifestations of allergy to this remedy, sensitive skin. The drug is not used during pregnancy and lactation.
Side effects
Immediately after applying the solution, a short-term burning sensation and pain may occur, but this does not require discontinuation of the drug. Allergic reactions, dermatitis may begin.It is also possible addiction of the body, resulting in reduced therapeutic effect of "Fukortsina". On large areas of the skin, this tool should not be used, since the phenol contained in the composition can provoke poisoning of the body, signs of which will be dizziness, weakness, respiratory distress, a sudden change in blood pressure.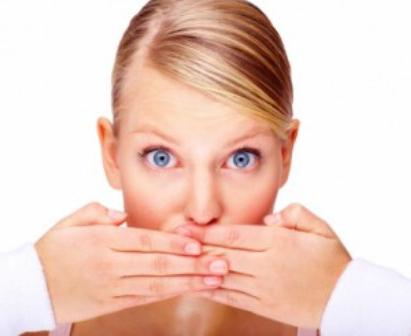 special instructions
It is not recommended to use the drug in conjunction with other drugs without the recommendation of a doctor. Solution "Fukortsin" is not used in the age of 12 years. The drug is suitable for two years with the condition of storing it in a dark place at an air temperature of 8-15 ºС.
"Fukortsin" - an effective tool that should be in every medicine cabinet. However, it is recommended to use it only on the recommendation of a specialist.
Related news
When used solution Fukortsin image, picture, imagery